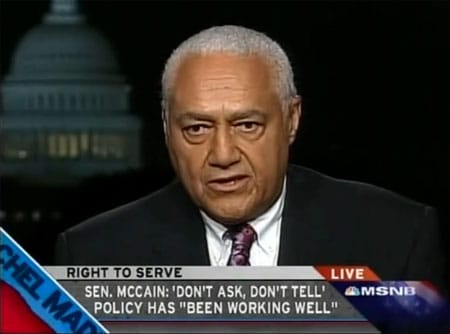 Rachel Maddow is sticking to her coverage of 'Don't Ask, Don't Tell'. Last night she hosted former Secretary of the Army Clifford Alexander, who laid into those objecting to the repeal of the military gay ban.
Says Alexander: "The hypocrisy of this is that you ask people to act as if they are not what they are. I said at one point that it's a little like asking a Jewish person to pretend to be a Muslim during his or her service, or during life generally…The no-necks who keep pushing this policy really need to have it changed, not studied, not long hearings, but changed. And it needs legislation,  it needs people in the House and the Senate to come forward and say this is time to make America be what America says it is."
Maddow then mentions what the Palm Center concluded, that the President can sign an executive order to halt discharges.
Dan Choi's organization Knights Out is urging people to call the White House switchboard at 202-456-1414 on Tuesday and make it known that now is the time to repeal 'Don't Ask, Don't Tell'.
Watch, AFTER THE JUMP…