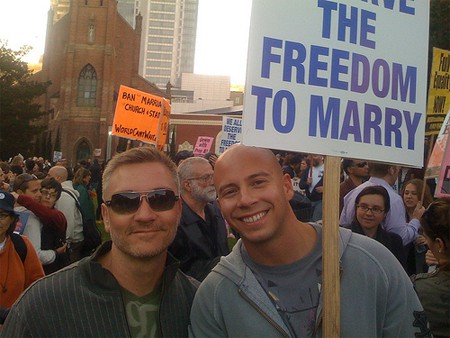 For additional wrap-up not here, please see our earlier from LAST NIGHT.

EQCA: Return to the ballot in 2010. Courage Campaign: How we will repeal Prop 8.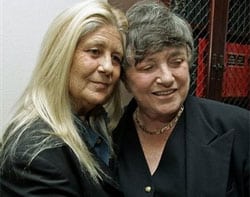 Plaintiff Robin Tyler to become "love warrior". Statement to Towleroad: "I pledge that my wife Diane Olson and  I, and the 18,000 other couples who were married in the California prior to Nov. 5, 2009, will be part of a grassroots army of love warriors, and will never stop fighting until all of our rights are won, here in California, and on a Federal level for all of us in every State. Let us take our anger, and our passion to the streets, and never, ever get off. And if the National Democratic party does not, after 35 years of promises to our community, make sure we have full equal rights in this country, the gay divorce you are going to see is the gay community's divorce from the Democratic party.  We are a civil rights movement. It's time we acted like one."

Tim Rutten L.A. Times opinion: "Legal precedents notwithstanding — and the six clearly nervous
justices who made up the majority in this case reached all the way back
to the state Constitution of 1849 for those — Tuesday's decision was
intellectually and morally incoherent. It essentially tells
Californians that a right as fundamental as the ability to choose the
marital partner of your choice is a kind of judicial lottery ticket —
if you got in early, you win, but those who arrived a few days late
lose. Sorry."

NYT: California High Court Upholds Gay Marriage Ban.

Daily Beast: Arnold's new gay problem. "Ours is the only state that has both an iron-clad constitutional ban on same-sex marriage and thousands of gay couples whose marriages have full constitutional protection."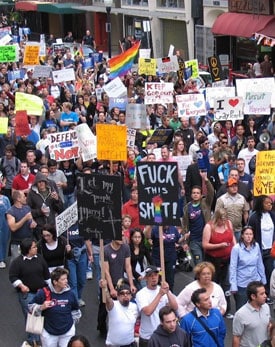 Rex Wockner: Between 5,000 and 10,000 march in San Diego. "Among the marchers was Lisa Sanders, Republican Mayor Jerry Sanders'
openly lesbian daughter. Both spoke at the march's end at the Hall of
Justice downtown. 'Can I get an applause? I walked the whole way in my high heels today,'
said Lisa Sanders. 'I'm very saddened today that the Supreme Court did
not overturn Prop 8. However, I am here with all of you and I know that
we will get full equality. We will all be treated equally because we're
all family and we're here today to fight for our rights.'

Andre Duques at Blabbeando with more photos of the NYC demonstration.

Hundreds march in Dallas.

George Takei reacts: "I am confident that if we go through this again, we will ultimately
prevail and our [State] Supreme Court will go into the dust of history. What the Supreme Court did essentially was maintain an inequality…Only
a year ago, they declared that marriage equality is a fundamental,
constitutional right that extends to gays and lesbians, and now they
say it isn't."

Wanda Sykes reacts: "I'm deeply disappointed, but also very optimistic that we
will return to the polls and restore marriage equality for same-sex
couples."