San Francisco Mayor Gavin Newsom will return a $25,000 campaign contribution from Russell Weiner, CEO of Rockstar Energy Drinks and the son of homophobic racist radio host Michael Savage: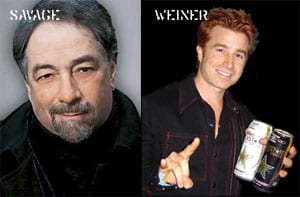 "…the move…comes after a progressive activist
in San Francisco, Aaron Baldwin, asked the Newsom campaign to reject
the May 11, 2009 contribution of $25,000 from Russell Weiner, the CEO
of Rockstar Energy Drinks.
The company which was founded in Nevada in 2001 promotes a popular
energy beverage — but is a family business, charges Baldwin. Janet
Weiner, the wife of Savage — real name, Michael Weiner — is the chief
financial officer for both Savage Productions and Rockstar, documents
show. Baldwin told us he contacted Eric Jaye, the Newsom campaign
consultant, to inform him of a campaign called "The Truth About
Rockstar.'' He said 10,000 have already signed up on Facebook to now
promote a boycott of the energy drink based on Savage's alleged links
with the brand."
Savage told the SF Chronicle: "I had nothing to do with the founding or creation of Rockstar. These
are my political enemies, trying to hurt me through my son. [It's a] McCarthyesque smear campaign.''
UK Home Secretary Jacqui Smith recently announced that Michael Savage was banned from entering the UK over his inflammatory, violence-inciting hate speech.