MSNBC's First Read reports on potential Obama Supreme Court nominees:

"According to a couple of sources in the know, there appears to be a
working short list of about six names for President Obama's Supreme
Court pick. The co-frontrunners (in no particular order): Diane Wood of
the 7th Circuit, Solicitor General Elena Kagan, Sonia Sotomayor of the
2nd Circuit, Michigan Gov. Jennifer Granholm, Homeland Security
Secretary Janet Napolitano and Merrick Garland of the DC Circuit Court
of Appeals. Obviously, folks can slice this list all they want: Five
are women; one's Hispanic; one's male; and all are in their late 40s or
early 50s, except two (Wood, 58, and Garland, 56). Keep an eye on
Napolitano. For this pick, it would be surprising if Obama named
someone he didn't either know well or trust personally."
Previously-mentioned out lesbians Kathleen Sullivan and Pam Karlan (above) are not on the rumored shortlist. However, former Dean of Harvard Law School Elena Kagan is a strong LGBT advocate, according to Campus Progress: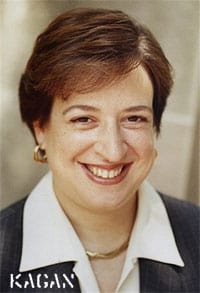 "Her most significant work is on the Solomon Amendment, legislation
that withholds federal funds from colleges and universities when they
ban military recruiters because the military's Don't Ask, Don't Tell
policy conflicts with many universities' antidiscrimination policies.
As dean, Kagan supported a lawsuit
intended to overturn the legislation so military recruiters might be
banned from the grounds of schools like Harvard. When a federal appeals
court ruled the Pentagon could not withhold funds, she banned the military from Harvard's campus
once again. The case was challenged in the Supreme Court, which ruled
the military could indeed require schools to allow recruiters if they
wanted to receive federal money. Kagan, though she allowed the military back, simultaneously urged students to demonstrate against Don't Ask, Don't Tell. Throughout the controversy, Kagan maintained contact with Harvard Law School's LGBT community. She attended a meeting of the student group Lambda and spoke with its leaders. Kagan has shown her commitment to advocating for LGBT
rights, and it seems clear that Kagan's experience battling Don't Ask,
Don't Tell on campus demonstrates she understands the needs of Harvard
Law's gay and lesbian community."
Discussion of Kagan's sexuality (I haven't been able to find any reference to her being publicly out) can be found easily via a Google search. Here's one comment from a recent NYT thread:
"Why are people pretending that Elena Kagan is not a lesbian. She's not
out but that does not change her sexual orientation. She has a female
partner. This is an open secret at Harvard Law School among students
and faculty. I cannot speak for the broader legal community yet, but
I'd have to believe her professional colleagues know as much or more
than the students and professors she works with. The real irony would
be if she did not get the nomination because she is not open, when the
conventional wisdom has always been she has tiptoed through life in the
closet for the very sake of winning a confirmation."
In any case, Kagan's experience with LGBT issues is reassuring.
Of course, Napolitano's sexuality has been questioned for years. In 2002, during the Arizona gubernatorial race she stated "I am not gay" in response to charges that she had a hidden gay agenda.
In related news, there was some question recently about ranking Senate Judiciary Committee Republican Jeff Sessions' (AL) openness to considering a gay nominee. He clarified that Monday: "I can vote for a gay nominee – we'll just have to see. That's just not the test
really; the thing that I'm concerned about is high legal quality."