Is the National Organization for Marriage now distancing themselves from Miss California Carrie Prejean? That's how it appears in this press release issued today.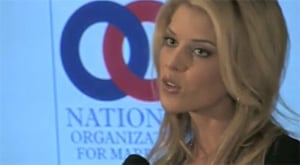 "A number of media sources have described Carrie Prejean as a spokesperson for the National Organization for Marriage. As we made clear at our press conference yesterday: Carrie appeared
with NOM as a private citizen; she does not work for the National
Organization for Marriage. She is a spokesperson for her own views, as
anyone watching her can tell. We are grateful to Carrie Prejean for her willingness to stand up for
marriage. We would love to work with Carrie in the future if she
chooses, and we wish her well in all her future endeavors whatever she
chooses. We're proud of her. Americans are proud of her. She is a
remarkable young woman. Thank you, Carrie."
No doubt they're on to brainstorming their next dud of an ad.