Obama made note fun of the LGBT protestors outside the Beverly Hilton hotel when he spoke at the DNC Benefit held there last night. The NYT reports: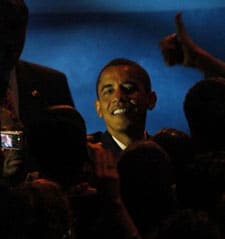 "A gaggle of sign-waving protestors milled around outside The Beverly
Hilton, the sprawling hotel on Wilshire Boulevard. They must have
caught the president's eye when he arrived at the hotel from an earlier
stop in Las Vegas because he relayed one of their messages to the crowd.
"'One of them said, 'Obama keep your promise,' ' the president said. 'I thought that's fair. I don't know which promise he was talking
about.'
"The people in the audience – who paid $30,400 per couple to attend –
laughed as they ate a dinner of roasted tenderloin, grilled organic
chicken and sun choke rosemary mashed potatoes."
Which promise? How about starting with the repeal of DOMA, the repeal of 'Don't Ask, Don't Tell', a federal hate crimes law, and above all, the promise to be a "fierce advocate" for all the LGBT people who voted him into office?
The AP posted a slightly different report on the remarks: "While many Obama supporters waved and cheered as his motorcade
approached the Beverly Hilton, some protesters decried Tuesday's
California Supreme Court ruling that upheld the voter-approved gay
marriage ban. Some of them also urged Obama to repeal the military's 'don't ask, don't tell' policy for gays. Obama said he could not hear the protesters' exact words, but he
agreed with one who shouted that the president should keep his promises."