A new poll from Brown University shows a majority of the state's voters would support same-sex marriage: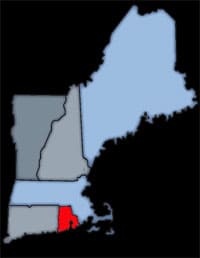 "[A] poll released Wednesday shows 60 percent of registered voters in the
state said they would support a law allowing gay couples to marry.
Thirty-one percent said they were opposed. Bills to legalize gay marriage in the state are before legislative committees in both the House and Senate. The
poll was conducted May 18-20 with a random sample of 593 registered
voters statewide. The margin of error was plus or minus about 4
percentage points."
Too bad the Rhode Island Governor Donald Carcieri is a hateful bigot. You may remember in April that I reported Carcieri and his wife had joined the local chapter of the National Organization for Marriage (NOM) and appeared at an anti-gay marrriage news conference. WPRI reported at the time: "During the news conference, Carcieri called himself a 'traditionalist'
and said the best upbringing for a child is in a home with a mother and
father.
He said he is not anti-gay, rather he believes the issue should be
decided by voters, and not by courts or legislators."