President Obama met with Judy Shepard in the Oval Office today to discuss the Local Law Enforcement Hate Crimes Prevention Act (aka The Matthew Shepard Act), which the U.S. House passed in April. According to a press release from the White House, "The President thanked Ms. Shepard for her work on the hate crimes bill and reiterated his commitment to ensuring that the Senate finalize the bill and act swiftly." Shepard spoke with The Advocate about the meeting: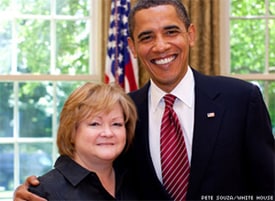 "Shepard told
The Advocate that she received the
Obamas' invitation on Monday…Upon arriving at
the White House on Wednesday, Shepard first met with the
president in the Oval Office. The meeting was short — 'it was supposed to be 10 minutes, but his
meeting beforehand ran long and I only had a minute or
so with him' — but it was long enough for Obama to
assure Shepard that he was still a supporter of the
hate-crimes bill named in honor of her son…."
Apparently Shepard has concerns that Harry Reid is going to attach the hate crimes bill to a DoD appropriations bill which she believes hurts its chances. She is urging people to call their Senators.
(Official White House photo by Pete Souza)