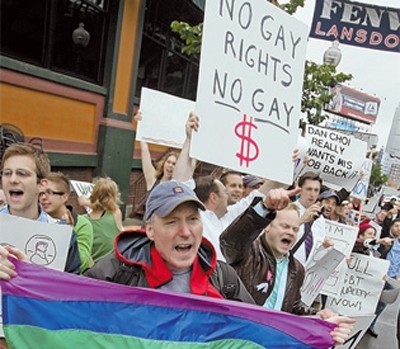 Blogger Ryan's Take documented the protest at the Democratic Party fundraiser last night at Boston's Fenway Park headlined by Vice President Joe Biden. The protests are a response to the aggressive and disturbing brief defending the Defense of Marriage Act filed by the Department of Justice last week: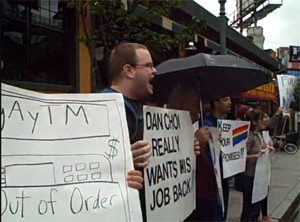 "Some key moments of the protests: Lt. Governor Tim Murray and MayorBoston both attended the event, but neither of them recognized theprotesters. MassEquality's Scott Gortikov attended the fundraiserdespite the protesters and Obama administration brief. Lastly, thepolice pushed protesters back beyond the original protest area, to theextant that it made it very difficult to have a fair voice inprotesting."
KnowThyNeighbor slammed Gortikov for attending the event: "Why did Gortikov not come over to the protesters and say, "thankyou for being here today, let me tell you what I am going to do insidethis fundraiser.  I am going to be advocating for us all…" Why?  Because Gortikov was NOT attending this event to do the job hewas hired to do, nor does he feel he is obliged to explain anything tous–the ones who pay his salary.  We were truly a liability for him, a distraction, an embarrassing display."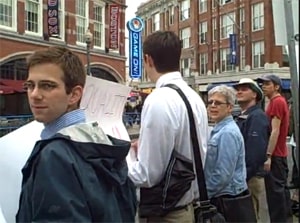 The Boston Herald covered the protest as well (image above): "Biden didn't show his face outside the ballpark Democraticfund-raiser, but that didn't stop the angry crowd from taking aim atthe administration's stance on the Defense of Marriage Act…Other attendees quickly walked inside the park or stifled smiles asabout 40 protesters held signs in the rain across the street from theballyard. Despite donating $1,000 to Obama's presidential campaign, South Endresident Rod Ferguson said his support has "waned significantly" in thewake of the brief filing. 'All of these things just to protect bigotry is just disgusting,'Ferguson, 30, said. 'I haven't donated anything since the election andI'm waiting until I see some action on LGBT rights before I will.'"
Protests are expected at a large LGBT Fundraiser scheduled for Washington DC on Thursday night.
Watch the videos, AFTER THE JUMP…