06/09: Rex Wockner has an update HERE.
ACT/UP and Aids Project Los Angeles (APLA) have scheduled rallies in Los Angeles (June 5) and Sacramento (June 10) over Governor Arnold Schwarzenegger's proposed budget cuts to HIV/AIDS funding.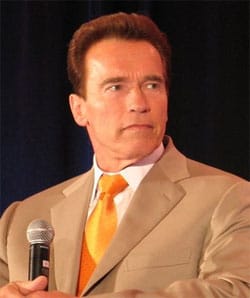 More info here.
The group writes:
On May 26, 2009, California's Department of Finance (DOF) released details about the Governor's proposed cuts of general funds from the State Office of AIDS (OA). The information varied somewhat from the Governor's original OA budget cut proposal that had been shared with the public the prior week, but the revised budget cuts continue to promise a destructive impact on people with and at risk of HIV/AIDS in California.The Governor's revised budget includes a $12.3 million cut in general fund support (roughly 13-percent) to the AIDS Drug Assistance Program (ADAP), and eliminates general fund support for all other OA programs ($67.8 million). In total, the Governor is proposing $80.1 million in cuts to critical HIV/AIDS services that help to preserve the health and lives of Californians living with or at risk for HIV/AIDS.
More from Calitics…
More on the proposed cuts, AFTER THE JUMP…
According to the group, "The following HIV/AIDS programs are targeted for severe reductions orelimination under the Governor's current proposal:AIDS Drug Assistance Program (ADAP),  HIV counseling and testing,HIV education and prevention,Early Intervention Programs (EIPs),Therapeutic Monitoring Program (TMP),HIV surveillance,Home/community based care programs,Housing programs, andCARE/Health Insurance Premium Payments (CARE/HIPP)."
They add: "The Governor's plan could result in the State losing a portion, if not all, of its federal Ryan White HIV/AIDS Program and CDC grants. The cuts will also impact local jurisdictions: local Ryan White grants are, for example, based on case reports from surveillance — proposed to be eliminated. "