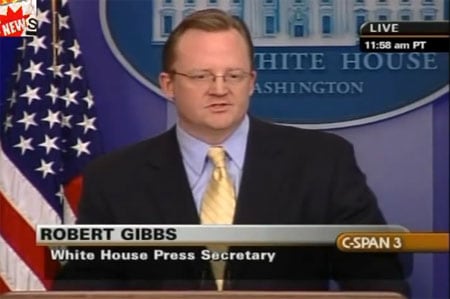 White House Press Secretary Robert Gibbs' tone showed a marked difference to previous press briefings when the news regarding the census and other LGBT issues came up today.
Watch it, with transcript, AFTER THE JUMP…
Also, the Justice Department has scheduled a private meeting for next week with LGBT groups:
"At the meeting — which hasn't been announced and is expected to include leading gay rights groups like GLAD and Lambda Legal — both sides are expected to hash out how to proceed with pending DOMA cases.It remains to be seen, however, whether the meeting will achieve in a long term sense what gay rights lawyers told me they were and are looking for — an ongoing, less-confrontational interaction with the administration in the context of specific cases."
And two top White House officials, Deputy Chief of Staff Jim Messina and Political Director Patrick Gaspard, are reportedly holding an emergency conference call with the LGBT caucus of the DNC:
"The call will include important updates on the Administration's LGBT agenda and how we move forward."
Watch today's less dismissive press briefing, AFTER THE JUMP…
Q    There's The Wall Street Journal report that President Obama wantsto include civil unions to be counted in the census.  Can you talkabout that?  Is that something the President wants?
GIBBS:  Well, I think, obviously, as we've discussed, the Presidentand the administration are committed to a fair and accurate count ofall Americans.  And as the piece said, we're in the midst ofdetermining the best way to ensure that gay and lesbian couples areaccurately counted.
Q    And just to follow up on John Berry's call that we had the otherday when the President signed the memorandum, he talked about the needfor a specific number of votes to fulfill the President's campaignpromise of repealing "don't ask, don't tell" and the Defense ofMarriage Act, and he kept saying 60 votes in the Senate.  But is theWhite House talking to Republicans that might favor the repeal ofthis?  I know there are a few.
GIBBS:  Yes, look, I think the administration — well, obviously,for math purposes, we're going to have to have a coalition of peoplethat believe, on each of those interests, that the policy isn't servingour nation well.  And the President is committed to making progress onboth of those issues.