The appointment of Ronald E.
Albers to the San Francisco County Superior Court is the first time that Governor Arnold Schwarzenegger has appointed an openly gay judge, according to the Bay Area Reporter: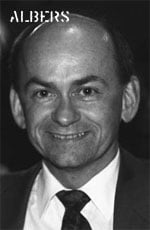 "Albers, 60, of San Francisco, has served as a commissioner
for the Superior Court since 2002. He will earn $178,789 in his new post, to
which he was sworn into Monday, June 15. The ceremony coincided with his
wedding anniversary; he is married to Colin Alexander, his partner of 34 years. In a brief phone interview Tuesday afternoon Albers said he
was 'absolutely honored and thrilled' when he received word about his
appointment, which was announced last Thursday, June 11…Openly gay attorney David Nathan-Allen Sims, who sits on
BALIF's board, called the pick "huge" in light of the recent decision
by the state Supreme Court to uphold the anti-same-sex marriage ban Proposition
8. 'It shows the governor's willingness to see that
someone's sexual orientation in no way hinders their ability to be a
judge,' said Sims, who works at law firm Saveri & Saveri."