Debris — a seat, a life jacket, signs of fuel — possibly from the vanished Air France Flight 447, was possibly spotted in a search location approximately where the aircraft would have gone down in the Atlantic, Brazilian media reported today: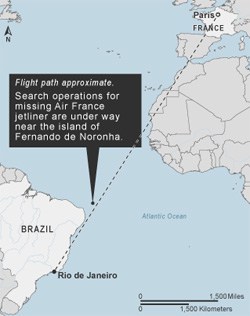 "The sighting by the French freighter Douce France is said to
be in the same area off the coast of Senegal where a pilot with
Brazil's TAM airline also may have spotted a burning piece of wreckage
as he was crossing the Atlantic early on Monday. Air France's
flight from Rio de Janeiro to Paris went missing on Monday morning with
228 passengers and crew on board. There was no distress signal received
from the plane. The TAM pilot reported having seen 'orange-coloured spots'' that might have been burning debris. The sighting took place at about the same time that Air France Flight 447 vanished from radar."
No further confirmation was available. Additional naval and other rescue ships were due to arrive in the area today, but storms in the area are hindering search efforts:
"Monday's events are highly unusual partly because they happened at
cruising altitude, the safest part of any flight. Jetliners routinely
encounter storms without suffering electrical or other problems. Though
lightning has periodically damaged aircraft, weather alone hasn't been
blamed for the crash of a large commercial jetliner in decades.
Investigators stressed it is too early to speculate on causes, but the
indications of electrical-system problems raise a complex issue that
has worried many safety experts: the chances of cutting-edge automated
flight controls going haywire."