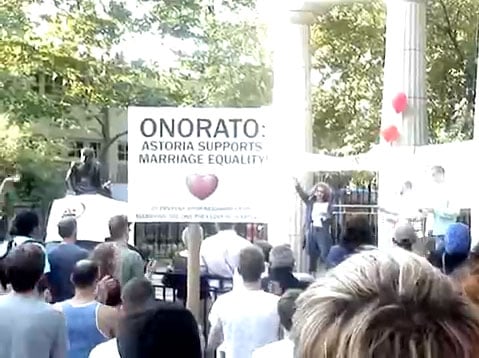 New York has three weeks to pass marriage equality.
Senator Thomas Duane told the New York Daily News the votes are there, but Senator Malcolm Smith hasn't expressed so much confidence. Neither has the Empire State Pride Agenda's Alan van Capelle. The NYDN reports:
"Sen. Thomas Duane (D-Manhattan) said he's received assurances of support from more than the 32 senators needed to approve the bill.' I have the votes,' said Duane, who predicted the Senate would vote on the matter before the end of its session this month.Duane declined to say which senators had agreed to support the bill, but said the list included some Republicans.Senate Majority Leader Malcolm Smith (D-Queens) and gay-marriage advocates stopped short of backing Duane's claim, saying only that the measure is gaining momentum.' There's still work to be done,' said Alan Van Capelle, executive director of the Empire State Pride Agenda."
According to the paper, no Republican senators have publicly expressed support for the bill.
On Sunday, approximately 2,500 people showed up in Astoria, Queens at a rally directed at state Senator George Onorato, who has refused to discuss marriage equality with his constituents. Donna Lieberman of the NYCLU, which has set up Marriage NY, a site which makes it easy for constituents to contact their senators, spoke at the rally.
Watch Lieberman speak, AFTER THE JUMP…