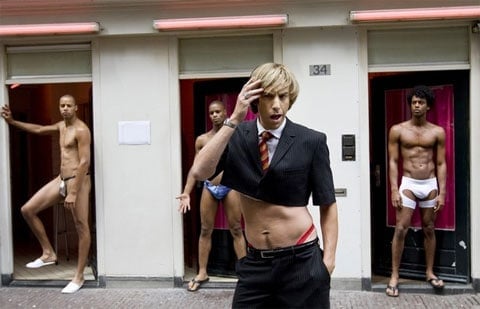 Sacha Baron Cohen continued his European tour for Bruno, premiering in Amsterdam today. Bruno jetskied down a canal before climbing into the city's Red Light District to announce he was opening the "Pink Light District" for business.
Said Bruno, cutting a pink ribbon: "It gives me great pleasure to declare Amsterdam's pink light district officially open for business. For too long, guys coming here from around the world have been forced to have sex with women. People of Amsterdam, I hope that you will enjoy these man holes…"
Soon after he left, Reuters reports, "The real prostitutes, who had hidden from the flashing cameras,reopened their curtains to wait for their next clients in their red-litwindows."
Video, AFTER THE JUMP…