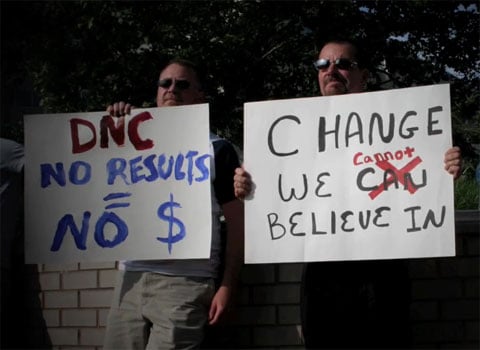 As I mentioned this morning, protesters greeted those attending a Democratic Party LGBT Fundraiser last night in response to the disturbing Department of Justice defense of DOMA brief released earlier this month and the lack of movement from the Obama administration on other key issues like "Don't Ask, Don't Tell."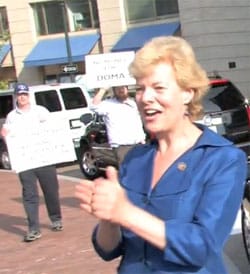 Watch the Washington Blade's video report on the protest, AFTER THE JUMP…
Democratic National Committee Chairman Tim Kaine released a statement this afternoon in commemoration of the 40th anniversary of the Stonewall riots this Sunday:
"Forty years ago at the Stonewall Inn in New York City, gay and lesbian Americans fought injustice from persecution and discrimination, bravely leading the charge in what has become the defining spark that began the gay rights movement around the world. Four decades later, we as a people have come a long way and should be proud of what we have accomplished since that day in promoting equal rights for all Americans – yet there is much more to do. With a President and majority in Congress committed to equality for all, our country can take more steps toward achieving the Democratic Party's commitment to fulfilling that promise by passing such laws as the Employment Non-Discrimination Act, adopting a national HIV/AIDS strategy, enhancing the safety of our military and our national security by eliminating 'Don't Ask, Don't Tell', and by repealing the Defense of Marriage Act. With the courage and defiance of those individuals at Stonewall Inn still in our hearts and minds, the Democratic Party reaffirms its commitment to the march towards equality for all and second class citizenship for none."
Watch the Washington Blade's video report on the protest, AFTER THE JUMP…