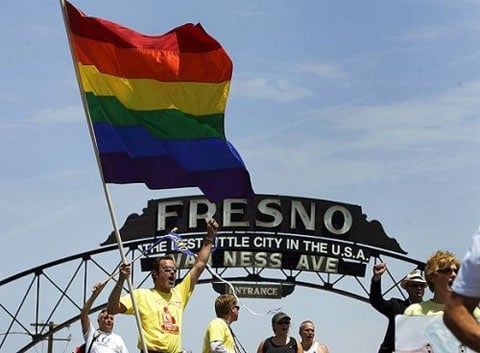 (image l.a. times – gallery here)
Thousands of gays and lesbians met in Fresno, California on Saturday for "Meet in the Middle 4 Equality", a march and rally for LGBT equality in reaction to the Supreme Court's decision on Proposition 8.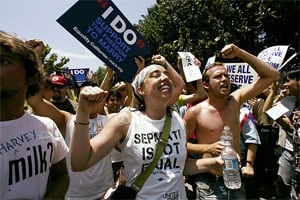 The L.A. Times reports: "Aiming to reach out to conservative voters, about 3,000 gay-rightssupporters gathered Saturday in California's Central Valley in arenewed campaign to win support for same-sex marriage. They staged the march in California's heartland to prominentlydemonstrate in a socially conservative region. Also, they wanted to pay"symbolic respect" to 1960s civil rights marches in places like Selma,Ala."
Marchers walked 15 miles from Selma, California to Fresno and were joined by Reverend Eric Lee, President of the Southern Christian Leadership Conference, Christine Chavez, granddaughter of United Farm Workers' Union Cesar Chavez, actors Eric McCormack, Michelle Clunie, T.R. Knight, Charlize Theron, activist Cleve Jones, screenwriter Dustin Lance Black, and others.

Said organizer Robin McGehee before the march: "You have got to reach into those communities that struggle to understand us."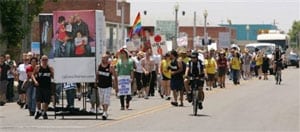 The SF Chronicle reports: "Same-sex-marriage supporters weren't harassed or bothered Saturdayalong their route, and there weren't counter-demonstrations of anysize. The stray drag queens who milled about the crowd Saturday wereanomalies; most of the crowd was dressed for the weather, sportingnothing louder than the homemade T-shirt worn by 24-year-old KatePerry: 'Central Valley Grown Queer.'"
Said McCormack at the rally: "We are the gays they accepted. The straightest mostconservative people in the world would come up to me in Texas orwherever and say 'I never miss 'Will and Grace.' I hope that mypresence here, and the fact that I played that character for so manyyears, would make them realize there is a middle ground that is calledhumanity."
Gay marriage opponents rallied there as well, the following day: "Hundreds of people waived signs and rallied at Fresno City Hall onSunday to show support for the voter-approved ban on same-sex marriagein California, a day after thousands marched in the area against theban. People attending the rally wore T-shirts and held signs thatread 'Still standing in the middle for marriage,' as area religiousleaders and politicians spoke in support of Proposition 8, thevoter-approved measure that restricts nuptials to a union between a manand a woman."
Speakers, like former Fresno Alan Autry, were met with cries of "shame" by counter-protesters, reports the AP, who were yelled at to go home and read the Bible.
Several videos – a fantastic montage by Sean Chapin, as well as videos of speakers Robin McGehee, Dan Choi, Eric McCormack and Cleve Jones, AFTER THE JUMP…
(MORE videos in our video widget in the right hand column of the site)
Robin McGehee and Dan Choi:
Eric McCormack interview and Cleve Jones speech: