An Air France Airbus A330-200 jet which left Rio de Janeiro last night headed for Charles de Gaulle airport in Paris is missing with 228 people aboard after disappearing from radar. The jet pictured below is believed to be the one that vanished, identified by its tag number.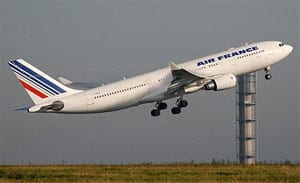 Jean-Louis Borloo, the second most senior French minister, said on Monday, "By now it would be beyond its kerosene reserves sounfortunately we must now envisage the most tragic scenario."
NYT: "A Brazilian Air Force spokesman, quoted by The Associated Press, saidthat the plane disappeared over the Atlantic Ocean and a search wasunder way near the Brazilian island of Fernando de Noronha. The planedisappeared about 186 miles northeast of the coastal Brazilian city ofNatal and near Fernando de Noronha, the spokesman said."
Reuters reports: "Air France said in a statement the plane sent an automatic messagereporting an electrical short-circuit at 0214 GMT, roughly 15 minutesafter flying into the turbulence. Senior French minister Jean-Louis Borloo ruled out the possibilityof a hijacking of the flight AF 447 from Rio de Janeiro to Paris. 'There was very, very strong turbulence. For now we can't understandwhat happened,' Borloo, the second most senior in the government, saidon France Info radio. 'Apparently the possibility of a hijacking has been excluded,' Borloo said." Air France later said that it "was probably struck by lightning and suffered an electrics failure as it flew through a fierce Atlantic storm."
An optimistic news report, AFTER THE JUMP…