Gay Pride celebrations got underway in a huge number of cities around the world this weekend. Here is a round-up of a few of them.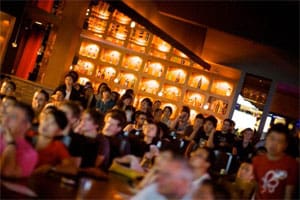 SHANGHAI, CHINA: Shanghaiist: "ShanghaiPRIDE commenced with
a bang and, thankfully, not a bust. Mainland China's 1st Gay Pride
event kicked-off yesterday with over 200 people cramming into Vargas Grill. Attendees of the inaugural event were a mix of gay, straight, local Chinese, expats, and a lovely drag queen named Anita.
With standing room only, the film portion of the evening opened with Gays.com's impressive IDAHO video and the short film Autopsy from Singapore. Next up was Queer China,
a feature documentary from veteran filmmaker Cui Zi'en. The film is a
fascinating overview of LGBT issues in China over the past 80 years.
The culmination of the movie was a submission of a Same-sex Marriage
Bill to the Legislative Affairs Commission of the National People's
Congress, which, unfortunately, failed." Organizers avoided parade: "There will not be a parade. The organisers took legal advice which
suggested that might get them into trouble with the authorities."
QUEENS, NYC: "Thousands of New Yorkers attended the 17th annual Queens Lesbian Gay Bisexual and Transgender Pride Parade on Sunday in Queens, NYC. Organizers hoped that the large turnout would help to sway reluctant New York Senators to support a vote in the senate on marriage equality (there are sadly very few days left before this legislative session ends)."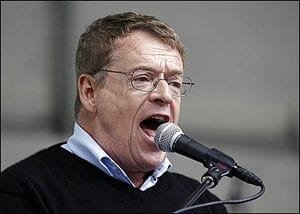 SALT LAKE CITY, UTAH: "Cleve Jones said the march planned for Oct. 11 will coincide with
National Coming Out Day and launch a new chapter in the gay rights
movement. He made the announcement during a rally at the annual Utah
Pride Festival. 'We seek nothing more and nothing less than equal protection in all matters governed by civil law in all 50 states,' Jones said. He stirred up a crowd of thousands just blocks from the Salt Lake
City headquarters of The Church of Jesus Christ of Latter-day Saints,
part of a conservative coalition that worked last fall to pass
California's Proposition 8, which overturned a court ruling legalizing
gay marriage. I've got a message for The Church of Jesus Christ of Latter-day
Saints,' Jones shouted. 'I've got two words from California … I've
got two words for the prophet … Thank you. Thank you for uniting us.
Thank you for galvanizing us.'"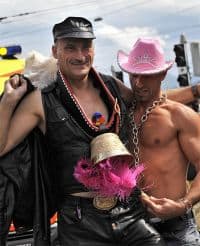 ZURICH, SWITZERLAND: " Around 50,000 people turned out for the European gay and lesbian
parade Europride's annual festival in the Swiss city of Zurich on
Saturday, organiser Michael Rueegg said. The festival, which was
held for the first time in London in 1993, takes place in a different
European city every year, attracting participants from all over the
continent. This year's Europride coincides with the 40th anniversary of the first gay rights movements in the United States. Zurich,
Switzerland's biggest city, is festooned with the movement's
traditional rainbow colours for the occasion, under the impetus of its
recently elected Socialist Party mayor, Corine Mauch, who is openly
lesbian. Ruegg said a 'mixed crowd' turned up at the parade, and not just homosexuals."
YOUNGSTOWN, OHIO: "Youngstown's gay community held its first ever Pride Festival
Saturday afternoon.  It took place on Phelps Street downtown.  Music,
food, and live entertainment were all part of the festivities. Pride
Youngstown organized the Festival.  They say that gay pride events take
place all over the country and an event in Youngstown was long overdue."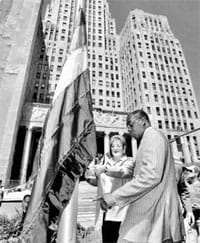 BUFFALO, NY: "[Mayor Byron] W. Brown joined gay leaders in raising the Gay Pride flag in front of City Hall. But it was a celebration with an undercurrent of tension. While
gay leaders praised Brown for his presence and his support of the Gay
Pride weekend, activists admitted that they wish the mayor could go a
little further — and support marriage equality. 'I've been a
longtime supporter of civil unions, and that continues to be my
position,' Brown said before the flag-raising ceremony. Brown
also emphasized that he's supported various measures to prevent
discrimination against people based on their sexual orientation and
other factors. But he hasn't supported same-sex marriage. 'This
is where I am,' Brown said. 'I haven't wavered from [that position] for
a long time. This [civil unions] is what I've supported when it wasn't
popular to support it.'"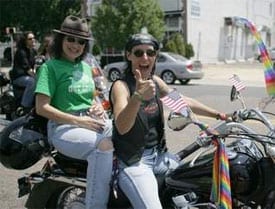 ASBURY PARK, NJ: "The festival included 170 vendors, live musical performances
throughout the day, an outdoor display of the Names Project Foundation
AIDS memorial quilt and a speech by Gov. Jon S. Corzine, who came to
support the gay community. Couples, families and children sat along the avenue to take in the celebration and support the participants. Betty Wolny of Ocean Grove could not help but clap as the floats and people walked by her chair. 'My heart, my love, my pride and my compassion for the gay community,' she said, is what brought her out to watch the parade.""
NEW PALTZ, NEW YORK: "The theme of this year's march was 'Love=Love,' going hand-in-hand with recent same-sex marriage debates
in the New York state Legislature. Handmade
floats, cars decked out in rainbow ribbons and balloons and throngs of
singing and dancing marchers celebrated their way from New Paltz Middle
School to Hasbrouck Park."