The Georgia Supreme Court threw out an order by Fayette County Superior Court Judge Christopher Edwards which prohibited children in a divorce case from any exposure to their father's gay and lesbian friends: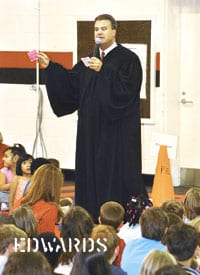 "The ruling stems from the 2007 divorce of Eric Duane Mongerson and
Sandy Kay Ehlers Mongerson, who had been married 21 years and had four
children. The visitation order prohibited the three youngest children, whose
ages ranged from 8 to 16 at the time, from being in contact with their
father's gay and lesbian friends. The oldest child was already an adult."
Said Justice Robert Benham: "Such an arbitrary classification based on sexual orientation flies in
the face of our public policy that encourages divorced parents to
participate in the raising of their children…[The Fayette County judge's
prohibition] assumes, without evidentiary support, that the children
will suffer harm from any such contact."
Bentham said there was no evidence that the children had been exposed to inappropriate contact or that they would be adversely affected by being in the presence of gay people.
And here's some disturbing news. According to The Citizen, Edwards has been nominated to fill a vacancy on the Supreme Court which threw out his order.