A U.S. Senate vote on the federal hate crimes bill, which passed the House in late April 249-175, is expected to happen this week, after it's amended to an unrelated travel bill, the Washington Blade reports: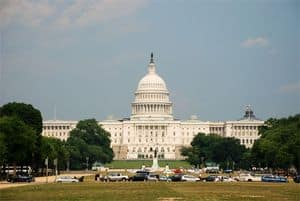 "Lawmakers are expected to pass the measure by amending S. 1023, or
the Travel Promotion Act, said the source. The bill is geared toward
establishing a national travel promotion program to communicate U.S.
travel policies and to promote travel to the United States. 'The idea is that that will be an amendment to the tourism bill
that's going to be on the floor this week in the Senate, and we're
thinking that the vote will happen probably [Tuesday] or Wednesday,'
said [their] source…More details on the passage of hate crimes legislation are expected later Monday at press conference on Capitol Hill. Speakers scheduled to attend include Senate Majority Leader
Harry Reid; Joe Solmonese, president of the Human Rights Campaign; Wade
Henderson, executive director of the Leadership Conference on Civil
Rights; and Michael Lieberman, Washington counsel for the
Anti-Defamation League, a group that works to stop the defamation of
Jewish people."