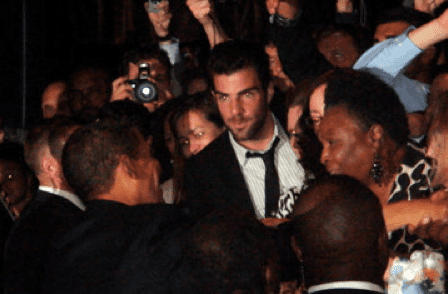 NATHANIEL ROGERS
Nathaniel Rogers would live inside a movie theater but for the poor internet reception. He blogs daily at the Film Experience.

Take One: A Double Take
At $211 million and climbing Star Trek is by far 2009's biggest movie hit. And how cute is this for a photo op? New "Spock" Zachary Quinto just posted photos of himself meeting President Obama on his official site. Newsweek famously suggested the POTUS was Half Vulcan last month. Hollywood loves all forms of synergy.
Take Two: Miscellaneous Cuts
Is Emile Hirsch finally ready to leave his raggedy neo-hippie phase (Into the Wild, Lords of Dogtown, Taking Woodstock) behind him?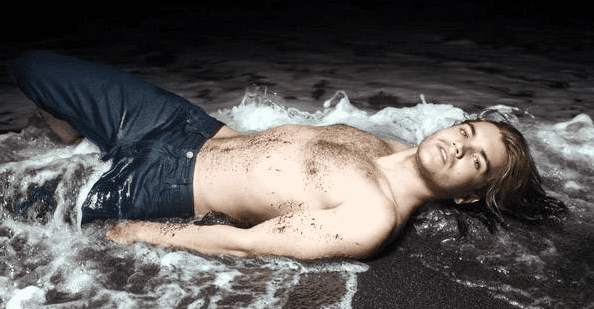 More, AFTER THE JUMP…
Maybe… maybe not. He's set to play Hamletin the 783rd film adaptation of the Bard's classic but it'll be amodernized version so perhaps he won't have to change it up a greatdeal. Even if you aren't modernizing it you don't really have to clean up to play with skulls in graveyards. How will Mr. Hirsch measure up to past film Hamlets like Ethan Hawke, Mel Gibson, Laurence Olivier or Kenneth Branagh among many many others?
Note to Hollywood: Other great plays do exist. I'd personally be way more interested if Emile was playing Ophelia… if you're going to do something that's been done hundreds of times before, change it up.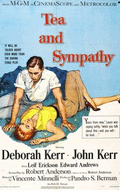 Tea & Sympathy references and sexual confusion in Land of the Lost. Say what?

10 Classic Movies by way of "Amazing Gay Stuff"

Meryl Streep isn't the only soon to be 60 year-old actress having a career renaissance. Hollywood finally seems to have remembered how funny Sigourney Weaver is. Maybe it was her way-funnier-than-the-movie bits in Baby Mama and The TV Set. After reuniting with James Cameron for Avatar she'll co star in three comedies: You Again (Playing Kristen Bell's "filthy rich aunt"), Paul (a sci-fi comedy) and yes Ghostbusters III… "I am the Gatekeeper!"

Bill, Killed. David Carradine dies by his own hand. So sad.

Creepy voyeurism or natural and sexy results of our cultural obsession with celebrity watching? The Twilight Dick-Off and the Chris Pine Bulge Files. You decide.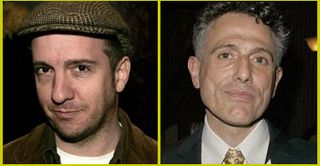 Take Three: In 3D
Neil Gaiman's gorgeously disturbing children's fantasy novel Coraline went 3D when the animated version, starring the voices of Dakota Fanning and Teri Hatcher, opened in February. Now Coraline has gone three dimensional again, this time in a more literal sense… no special glasses required. The Off Broadway musical version opened on Monday. It's a collaboration between two acclaimed openly gay artists, musician Stephin Merritt (of Magnetic Fields fame) and playwright/actor David Greenspan who is known for gender bending onstage. Greenspan adapted the book and plays the button-eyed "Other Mother" in this rendition. And you thought Teri Hatcher was creepy!
Great art is often flexible and Coraline continues to be wonderful in all its (very) different incarnations. The stage craft here is inventive in its minimalism and funny, too. The songs aren't as blissfully catchy as Merritt's best known work (69 Love Songs) but there is one number in particular, sung when Coraline meets three dead children, that's gobsmackingly beautiful. It's also fun to pretend that all the toy pianos (they're everywhere on stage) are a tribute to Neil Gaiman's close friend Tori Amos. Merritt hopes to record a cast album. Coraline runs through July 5th at the Lucille Lortel theater.