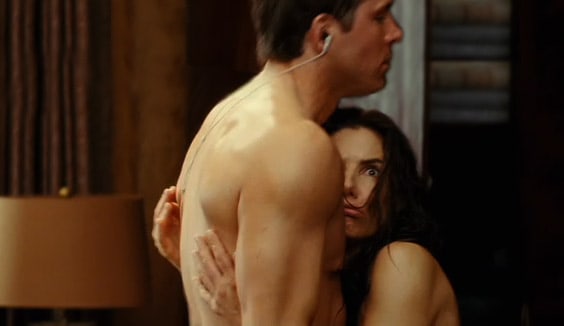 Would you be this upset if you accidentally collided with a naked Ryan Reynolds?
Nathaniel Rogers would live inside a movie theater but for the poor internet reception. He blogs daily at the Film Experience.

Take One: Now Playing
Sandra Bullock is clearly overreacting. "Why are you naked?!?" she screams frantically skin on skin in THE PROPOSAL. Why ask 'why?', Sandra?
The Proposal opens on nearly 3,000 screens this weekend. It's Sandra Bullock's bid to recapture her RomCom throne. Reese Witherspoon, Kate Hudson and others been taking turns keeping the seat warm for her. If romantic comedies aren't your thing Jack Black and Michael Cera are working broad ancient yuks in YEAR ONE.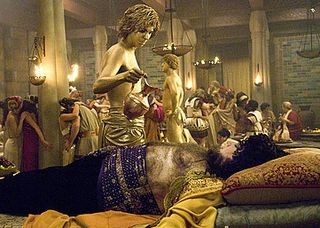 But what are mainstream comedies without a little gay-baiting (sigh) so Year One has to have scenes set in Sodom that feature a queeny Oliver Platt who is anxious to get a little oily and freaky with Michael Cera.
For me this weekend is all about Woody Allen's latest WHATEVER WORKS. His career has been on quite an upswing of late. Two recent efforts Match Point (2005) and Vicky Cristina Barcelona (2008) turned out to be his most popular films since Hannah and Her Sisters won sizable audiences and a Best Picture nomination way back in 1986. If memory serves me correctly, this is Woody's first film with gay characters since Meryl Streep tore it up in Manhattan (1979) as an angry lesbian writing a tell-all about her ex husband. Among the couplings in the new film is a tripling: Patty Clarkson plays a bible-belter who shacks up with a gay couple in NYC.
Take Two: Bonus Scenes
Speaking of Patty. She's a major friend to the community. Just last week she was promising to get naked with Rachel Maddow in New Orleans.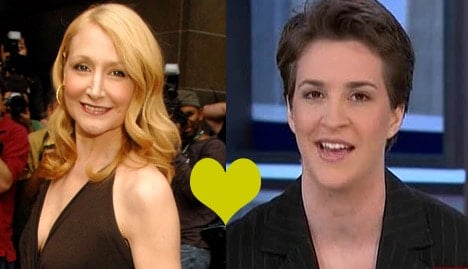 I'm not making this up. More, AFTER THE JUMP…

In a fantastically bold, angry, funny speech at an HRC event in New Orleans, Clarkson advocated for gay marriage, quoted the great Tennessee Williams, praised Rachel Maddow as brilliant, took Obama to task for his snail's pace advocacy and memorably refashioned the images of prominent anti-gay blowhards like Newt Gingrich, Rush Limbaugh and others into a "Mount Rushmore of Divorce". Here's the complete text of the speech and the video. God, I love this woman. Don't you?


The 1980 hit film Fame which spawned a famous television series starring Debbie Allen has been remade. There's now a full length trailer. I'd embed it for you here but for the studio has been removing the video from any embeddable service sites. Don't they want people to see it? Debbie Allen co-stars and they've loaded the teacher list with recognizable faces: Kelsey Grammar, Megan Mullaly and Bebe Neuwirth are also faculty members.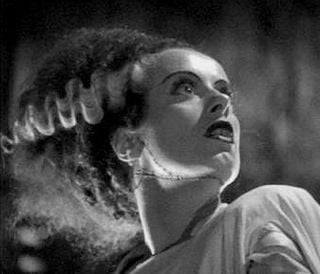 Reminder #3,593 that nothing is sacred in Hollywood: The Bride of Frankenstein is getting remade.

Green Lantern now comes in rainbow colors. Whaaaat? My guess is there's no extra color in the upcoming movie version.

Kristen Stewart as Joan Jett in The Runaways movie. Unfortunately no glimpse of Dakota Fanning as Cherie Currie in full 'ch-ch-ch-ch-cherry bomb' mode yet. At least she's lugging the script around.


Stephanie J Block, currently starring in the Jane Fonda role in Broadway 9 to 5 musical once played Liza Minnelli to Hugh Jackman's Peter Allen in The Boy From Oz. She's got a pro gay marriage song on her new album and in a recent interview she discussed making out with the "wonderfully silly" Hugh Jackman. "Our kissing scenes (which I am proud to say were many) would range from passionate to ridiculous. There were shows we would be giving the audience major passion with the downstage part of our lips, but the upstage sides of our lips were having a total conversation."

Hollywood's top comedy mogul Judd Apatow (Knocked Up, Forgetting Sarah Marshall, Funny People) talks about his use of male nudity for laughs in a new Playboy interview.He thinks it's funny "because a penis looks like a man with a bignose and large ears." He even describes his own like so "from a certain angleit kind of looks like Ben Kingsley".
If only it looked like Ryan Reynolds.