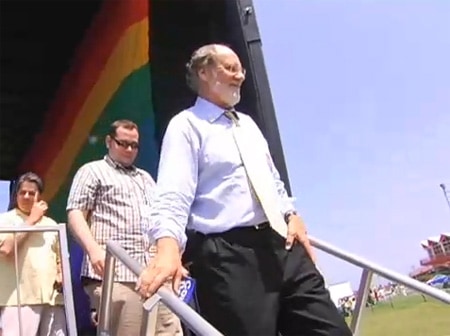 New Jersey Governor Jon Corzine took his stump speech to Asbury Park's Pride celebration on Sunday and promised marriage equality for the state.
Said Corzine: "You might know there's a little election coming up in about 148 days and six hours. And you know what? Marriage equality is on the ballot. Are you going to help us make it come to pass in New Jersey? This is fundamental to what we are about as a country, what we are about as a people. Human rights, civil rights are absolutely key. In God's eyes we are all one people. And we need to recognize that and behave that way on the Earth as we will in eternity. It is important that we make sure we stand up for everybody's rights and I'm going to be the governor that will bring that to the State of New Jersey if you'll help me this fall."
Watch it, AFTER THE JUMP…
Jeremy at Good As You notes that his GOP challenger Chris Christie couldn't be more wrong on the issue.