Following GLAAD's condemnation of the assault against Perez Hilton, which was accompanied by a request for him to apologize for using the word "faggot" during his altercation with Will.i.am's manager at the MuchMusic awards, Perez Hilton tells TMZ that he doubts GLAAD will apologize for taking it one step further.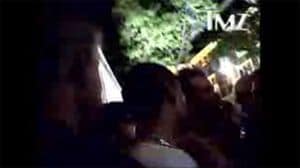 Said Hilton: "I am saddened GLAAD chose to victimize me further by criticizing me for how I non-violently dealt with a very scary situation that, unfortunately, turned violent. While I doubt I will get an apology from GLAAD, nor do I expect one, I would just hope people know how difficult it is to intellectualize a situation and think rationally when a thug disguised as a musician is screaming at your face and intimidating you. I am just very fortunate and grateful that nothing more serious happened to me."
Will.i.am's manager Polo Molina, is due in court on August 5 on assault charges.
Previously…
GLAAD Condemns Assault on Perez Hilton, Asks Him to Apologize [tr]