Openly gay Portland Mayor Sam Adams is in the clear regarding the Beau Breedlove affair: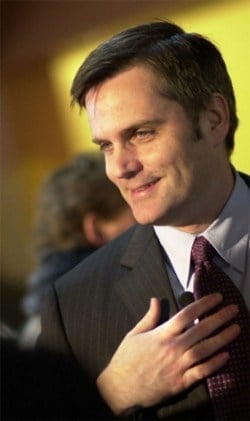 "Oregon's attorney general, John Kroger, has finished months of investigation into the sex scandal around Portland's mayor and finds no credible evidence Adams had sex with a teenager in 2005. Kroger issued a report today and held
a press conference to say there wasn't enough of a case against Adams
to bring it to trial. In particular, Kroger says, Breedlove is not a credible witness, citing acts that brought him money and notoriety. Kroger notes that Breedlove's posed for the gay porn magazine
Unzipped and was paid for it and that Breedlove's leaked details about
the relationship to journalists."
More here.
Among the details that emerged during the investigation were a loan to Beau Breedlove in the amount of $750 shortly before admitting that he lied about the nature of his relationship with the former legislative intern, and the fact that he went so far as to draft a resignation letter before deciding against giving in to pressure to quit.
Adams released a statement to the press: "The Attorney
General's office released the results of its five-month investigation
today, clearing me of wrong-doing. I made mistakes in my
personal life that led to this investigation. As a result, the city I
love was put through an ordeal. I am gratified the investigation has
been completed, and I want to reiterate that I am sorry. I want to thank Portlanders for their support and understanding. I want
to also thank my colleagues, the hardworking employees of the City of
Portland, and my focused staff for helping to deliver exceptional
results over the past five months. I will continue to
fight to put Portlanders people back to work, address the high-school
dropout rate, and strategically plan for Portland's future. Thank you for your support."
Adams was under investigation on five separate statutes and said he's ready to move on: "I'm going to continue to focus on getting Portlanders back to work and
decreasing the dropout rate. I've been working hard, and I have a lot more work
to do."
Moving on may have its difficulties, however: "A spokesman for the campaign to recall Mayor Sam Adams says the
Attorney General's report today clearing the mayor of criminal
prosecution will not affect the recall effort's plans to start July 7. Recall spokesman Jasun Wurster says the Attorney General can only hold Adams accountable for legal statutes, but that Portland voters should hold him accountable for what Wurster calls civic and ethical violations."