As authorities and media continue to speculate on the cause of the crash of Air France flight 447, news has emerged that a flight from Buenos Aires to Paris had been delayed just days earlier due to a bomb threat.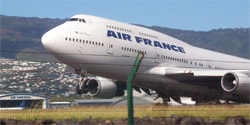 Momento24 reported on May 27: "The airport safety delayed an Air
France flight this evening before departring for Paris immediately
after the company received a bomb threat over the phone at the airport
of Ezeiza. The Federal Police, along the Firemen's
direction and the Airport's Safety proceeded to inspect the plane, that
arrived this morning from the French city and, after a brief stop, it
was preparing to return. The routine procedure lasted
approximately one hour and a half and, as sources of the airport
reported all the passengers are ok and they were not evacuated."
The WaPo reports: "Aviation safety analysts yesterday continued to play down lightning as
the force that doomed the French airplane, explaining that aircraft
routinely encounter such strikes. French aviation officials have yet to
fully detail what went wrong in the A330. But a struggle with a
"complex of thunderstorms" is at the heart of current theories about
the case.
"
The New York Times has posted an informative graphic on the crash and recovery efforts.
And SALON's aviation expert reports on turbulence vs. lightning, and this sad note: "If the airplane hit the water after partially breaking up, or when it
was in any way out of control, the chances for survival would have been
nil. A ditching (water landing) seems unlikely, but that too would have
presented little chance for a successful outcome. The exploits of Capt.
Sully, perhaps the luckiest pilot in the world, left us spoiled. This
was not the calmly flowing Hudson River in daylight. It was the
storm-whipped open ocean, in darkness."