The New Hampshire legislature will vote on its revised marriage equality bill today. A victory would make it the sixth state to legalize same-sex marriage.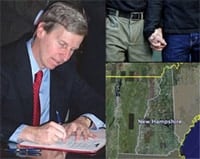 On Monday, New Hampshire Governor John Lynch told reporters that it appeared his requests for additional protections for religious institutions had been met.
A rally is being held this morning outside the New Hampshire state house at 9 am.
There's good news from last night to report as well: Democrat Andy White won a special House election against his Republican opponent Randy Wagoner last night. White supports marriage equality and adds one more vote to the mix.