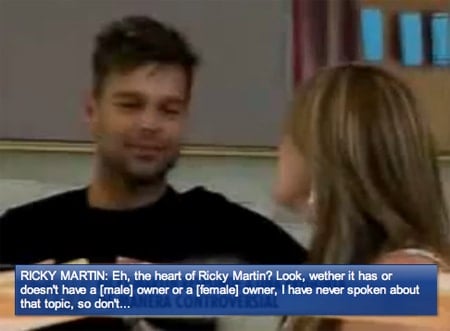 Last week, Puerto Rican magazine TV Aqui published a tease on its cover and a Tweet claiming that Ricky Martin told them his heart could belong to a man or woman. That was just a lie intended to sell magazines, apparently (shock).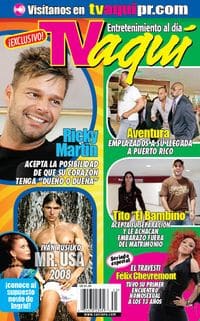 Said Mike Szysmanski of the Examiner: "I went directly to Saudy [Rivera, the editor of TV Aqui], who is based in Puerto Rico, and asked ifRicky used the B-word. 'No, he didn't say that,' she replied to me. 'What he said was: 'The heart of Ricky Martin… if it belongs to amale or a female… I have never talked about it.'"
So, it appears that cover tease is just what it was. A tease.
And Andrés Duque of Blabbeando translated a video of the actual interview with Martin. Here it is:
"Eh, the heart of Rocky Martin? Look, whether it has or doesn't have amale owner or a female owner, I have never spoken about that topic, sodon't…"
But Duque also pointed out that in the same issue the magazine ran a poll implying that if Martin is gay, he is less of a man because of it. Shame.
Watch the video, AFTER THE JUMP…
Of course, those of you with broken hearts can perhaps find a little comfort HERE.