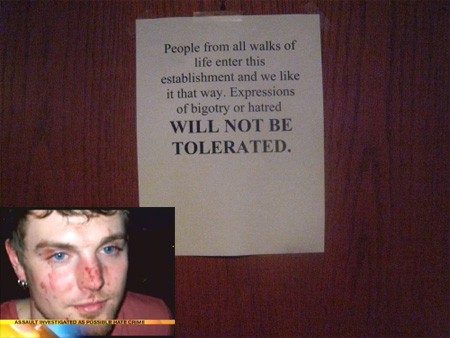 A sit-in is planned tonight (originally scheduled for last Saturday but canceled due to inclement weather) in reaction to the hate attack against a gay man that took place last week at Tabby's Bar and Grille in Maineville, Ohio.
Jamie Royce of Stuff Queer People Need To Know  who arrived at last week's action before knowing it was canceled, explains the sign above: "The owner of Tabby's explained to us that this attack does not reflect
his establishment and apologized to the victim's mother; he was wearing
white in solidarity with the planned sit-in. Signs like this one were
posted throughout the bar."
Here's the Facebook page for the demo.
As far as I know, police are still looking for the two men primarily responsible for the attack. If anyone knows otherwise, please let us know.