People often make fun of ladies and their cats. But when it's a real situation lived in the public eye, it's just sad. Susan Boyle clearly isn't mentally-prepared for the fame and demands that superstar-dom has brought her: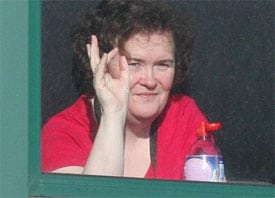 "Susan Boyle was dropped from a second Britain's Got Talent concert
last night after launching into a bizarre rant over her beloved cat
Pebbles. The distressed singer was seen shouting on the balcony
of her eighth floor room which overlooked the atrium at Radisson SAS
Hotel in Liverpool on Thursday afternoon. Her behaviour
prompted producers to remove the 48-year-old from the playlist at
Thursday's live tour at the Liverpool Echo Arena. A spokesperson for Britain's Got Talent denied the Scottish spinster
had been yelling for her cat, insisting she was 'just tired'. Fellow hotel guests claimed Susan was seen bawling: 'Where's my cat?' on the balcony on Thursday afternoon. One guest said: 'She kept shouting, 'I want my cat. I need my cat. 'I think people felt sorry for her as she was clearly unhappy.' It is unknown if she will return to the stage in Cardiff tonight."
Very sad. She's obviously not cut out for touring. They should just let her make a record and get on with her life at home.