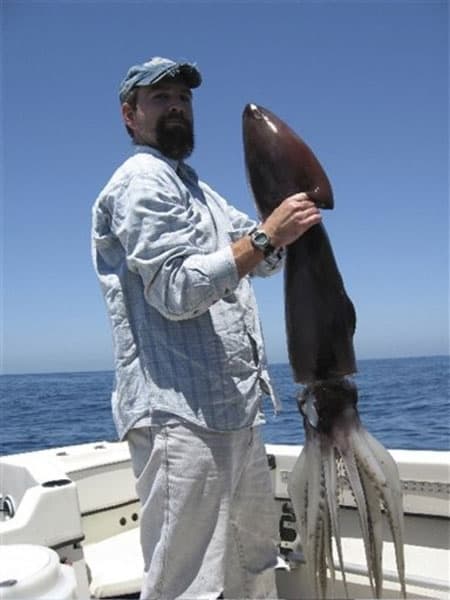 The jumbo squid I mentioned last week whose populations have been aggravated (by earthquake, or not) in waters off San Diego, are intriguing divers:
"The so-called Humboldt squid, which can grow up to 100 pounds,are native to the deep waters off Mexico, where they have beenknown to attack humans and are nicknamed 'red devils' for theirrust-red coloring and mean streak. Those who dive with them therechum the water with bait and sometimes get in a metal cage or wearchain mail to avoid being lashed by tentacles."
The squid are also aggressive: "Roger Uzun, a veteran scuba diver and amateur underwatervideographer, swam with a swarm of the creatures for about 20minutes and said they appeared more curious than aggressive. Theanimals taste with their tentacles, he said, and seemed to betouching him and his wet suit to determine if he was edible. 'As soon as we went underwater and turned on the video lights,there they were. They would ram into you, they kept hitting theback of my head,' he said."
Video of the squid in action, AFTER THE JUMP…