It plunged vertically, hitting the ocean belly-first. Life jackets had not been deployed: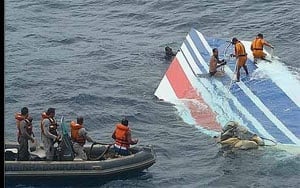 "Brazil decided on June 27 to call off the recovery operation but
France has maintained its nuclear submarine, research vessel and other
boats in the area on a final hunt for the black boxes. The BEA lead investigator said the search would continue until July 10. The
homing beacons on the flight recorders emit signals for about one month
after the crash and the BEA hopes that they will have a
longer-than-usual shelf life. Investigators have been
scrutinizing some 640 pieces of debris recovered from the crash zone
for any clue as to what brought down the plane as it flew through
turbulence over the Alantic."
In related news, the sole survivor of the Airbus crash near Comoros, a 14-year-old girl, returned to Paris:
"Yemenia Flight 626 crashed Tuesday morning off Comoros amid heavy
winds, and Bahia, described by her father as a fragile girl who could
barely swim, spent over 13 hours in the water clinging to plane
wreckage before she was rescued. The other 152 people on the
plane, including her mother, are presumed dead. It is not clear that
Bahia knows her mother is dead because her uncle who visited her
Wednesday at a Comoros hospital was too heartbroken to break the news.
Instead, he told Bahia that her mother was also recovering."
There are reports that Airbus may be forced to ground its entire fleet of long-range jets.