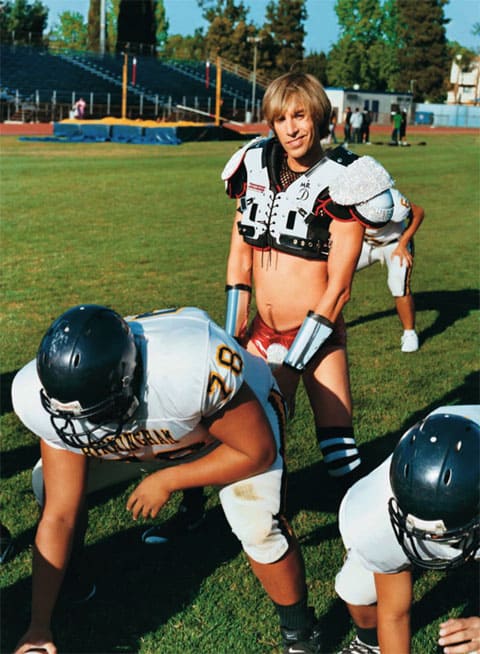 A photo shoot for GQ in which Sacha Baron Cohen's Bruno played football with a Birmingham High School team while wearing shoulder pads and a glittery cup has landed the principal of that L.A.-area school in trouble:
"While parental consent was granted for the April
16 photo shoot, LAUSD Schools chief Ramon Cortines said the forms
lacked 'specificity' about the nature of the photos. Cortines said 'appropriate personnel action' would be taken
against Birmingham's principal, Marsha Coates, and athletic director,
Richard Prizant. But he said personnel matters were confidential and he
could not specify the disciplinary actions. 'Rules were broken. The principal is ultimately
responsible, but I also hold accountable the athletic director, who is
also the school's filming coordinator and was present when the pictures
were taken,' Cortines said. 'I also want parents to know that this district will allow no one to take advantage of our students.'
District officials said they did not know if Birmingham students will also appear in the "Bruno" film, due out July 10."
In related news. Movieline is reporting that the original ending of Bruno (cut from the final version) was a gay bashing played for laughs.