NATHANIEL ROGERS
Nathaniel Rogers would live inside a movie theater but for the poor internet reception. He blogs daily at the Film Experience.
It's Fourth of July weekend at the movies. What better way to celebrate than with that most patriotic of film genres: the gangster movie. I kid, but it's definitely true that disreputable types that you would never ever want to associate with in real life have never gone out of style as film heroes. Perhaps it's the abstracting distance of reel life that makes them attractive?
TAKE ONE: Now Playing
Michael Mann, one of Hollywood's most relentlessly masculine auteurs, has always been drawn to violent men. He brought us Hannibal Lecter's debut in Manhunter (1986), colonial savagery in The Last of the Mohicans (1992), corporate thuggery in The Insider (1999) and the gun play of Miami Vice (2006) …it's what he does. His new film PUBLIC ENEMIES, recounts the last year of John Dillinger's life as a notorious bank robber during the Great Depression. It begins with a huge title card stating "1933". Not for Mann, any fears about today's audiences not (generally) flocking to period dramas. But with one of the most dependable superstars in the world headlining, why worry?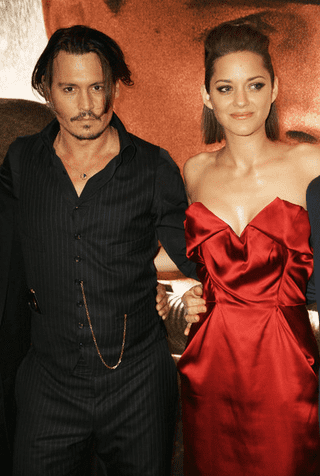 Johnny Depp plays this  "Public Enemy #1", and Mann surrounds the star with a huge cast of fine character actors as well as other dangerous famous beauties like Christian Bale, Billy Crudup, Stephen Dorff, Marion Cotillard and even Channing Tatum as "Pretty Boy Floyd". Don't get excited about the latter… he isn't long for this film's world.
 Bang Bang. My Baby Bale shot him down.
Aside from the title card, costumes and the recurring use of the classic "Bye Bye Black Bird" song, there's not much that feels period about Public Enemies. Mann's swift footed digital camera work is jarring at first but once you've adapted, it reveals its own distinct harsh beauty, lending the film a strangely modern feel. Plus the antihero (and also Johnny Depp) hold timeless appeal.
MORE, AFTER THE JUMP…
…on Public Enemies, new lesbian films, gay superheroes and the enduring appeal of Bette Davis
Public Enemies has a couple of thrilling action setpieces but it's a little too detached emotionally for a drama. If you don't like Mann's other movies, you shouldsteer clear. It's a bit opaque in its characterizations, purposefully I think, with all of these dead-eyed men staring at each other withspoken (or unspoken) threats. The dialed back emotion is a huge plusfor Christian Bale who's been leaning too hard on the intensity lately –he's finally effective again as the quiet agent in pursuit of Dillinger — but it doesn't always work for the movie as a whole.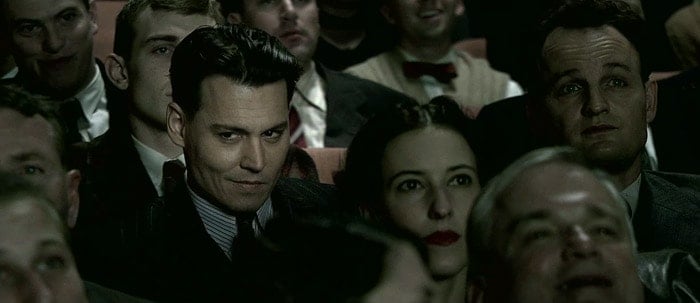 Henchman: Who cares what the public thinks?
Dillinger: I do.
Despite its heavy tone, there is some light riffing on celebrity and the business of going to the movies itself. Public Enemies has two substantial scenes set within movie theaters and both are a lot of tense fun. If Michael Mann cared as much about entertaining the masses as John Dillinger by way of Johnny Depp seems to, this film would probably have a good chance of breaking out. As it is, it will find both ardent fans and bored detractors.
Which will you be?
TAKE TWO: Bonus Features
What's that you say… Alice in Wonderland has two mommies?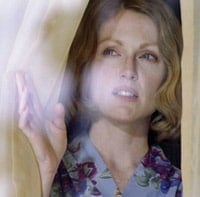 Mia Wasikowska, the "Alice" in Tim Burton's upcoming Alice in Wonderland, can now call two of Hollywood's greatest actresses "Mommy". Julianne Moore and Annette Bening will play life partners who've raised two children in the new feature The Kids Are All Right. Mark Ruffalo will play the sperm donor their now teenage kids want to meet. Out filmmaker Lisa Cholodenko (High Art) is writing and directing. Both Moore and Bening have played lesbians before onscreen, albeit suicidal ones. Hopefully 'The Moms Are All Right' this time around.

Have you seen the West Side Story spoof Web Side Story yet? It'll be out of date any minute what with all its twitter, Facebook and Pandora references, but it's funny and they even get a dig in about e-Harmony's rejection of gays.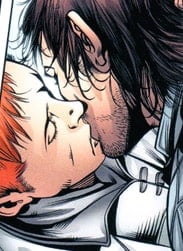 Two more superheroes have come out of the closet in comic book pages. Shatterstar and Rictor are both part of the (heavily populated) X-Men universe. Apparently Shatterstar's original creator is not pleased with the outing and plans to undo it if given a chance. There are so many superhero movies these days. How long until we get a major gay character in one of them?

San Diego Comic-Con is holding a "Slave Leia Squad" (for girls only), in which hundreds of women will be donning Princess Leia's famous gold metal bikini costume for a photo shoot. Why deny drag loving or transgendered Star Wars fans their due? Leia is legion at conventions and if more is truly merrier let the boys and the MTFs play, too.

Movie stars talking about the King of Pop. Steve Martin remembers moonwalking and Jane Fonda pontificates on the icon, his fear of aging, and her own confusion about their 80s friendship.
Did he want me to be his 'older women' friend. Hegravitated to older women. For solace? Succor? A beard? …I nevercould quite figure it out.

Olympia Dukakis is going to headline the roadtrip comedy Cloudburst, about lesbians who escape their nursing home. One assumes the producers are hoping that Steel Magnolias fans everywhere turn up en masse. I'll give them a tip: Get Shirley Maclaine for a cameo and the reunion of Ouiser and Claree ought to do the trick.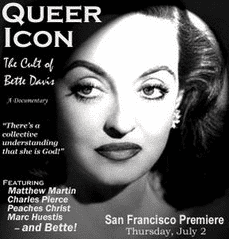 Tonight in San Francisco, they're premiering a new documentary called Queer Icon: The Cult of Bette Davis.We hope no critics declare it "a dump". Gay fans, film historians anddrag entertainers like Peaches Christ are interviewed in the film.
And here comes the awkward tie off to this week's cinematic roundup!  Bette Davis was a contemporary of John Dillinger himself (Public Enemy #1). While he was robbing his last banks in 1933 she was beginning her ascent to legendary stardom in Warner Bros pictures (the studio then celebrated for gangster pictures). She won her first Oscar a year after his death for Dangerous. Like the famous bank robber now embodied by Johnny Depp, she knew how to sell the public on her criminal cool. They wanted her to get away with it.