The editors of Modern Tonic present a weekly music update here on Towleroad. The rest of the week, they scan the pop-culture landscape for movie, TV, book and Web recommendations in their daily email.
NEW ARTISTS TO WATCH AND FREE DOWNLOADS
We're going out on a limb here, but we'll say it: For summer 2009 — Black is the new black. Dan Black, that is, singer of the defunct U.K. alt-rock group The Servant and now a proud solo performer in his own right.
Out now in the U.K., Black's debut, ((un)) — that's French for "one" — was culled together via laptop technology and good old-fashioned studio know-how in his adopted home of Paris, and the results are splendide indeed. Black careens from polyrhythmic dance floor anthems ("Yours," "Pump My Pumps") to stately mid-tempo ballads like "Ecstasy" with ease.

Whether it's the Passion Pit remix of the Rihanna and Notorious B.I.G.-cribbing single "Symphonies" or the tribal drums of album track "I Love Life" — both available here as FREE DOWNLOADS — everyone needs some Black in their collection.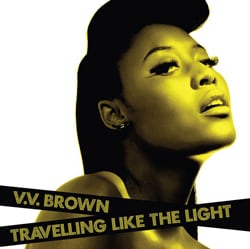 Who says that Black and Brown don't go together? VV Brown's another U.K. artist, and her spirited neo-pop's a great complement to Black's laptop hip-hop. She's a Blondie-style lover of the rock and roll verities. Her early singles — "Crying Blood," "LEAVE!," and "Shark in the Water" — blend doo-wop, new wave and punk sprightliness for a fresh take on pop's rich history. She even incorporates her own multi-tracked Destiny's Child-type harmonies into the girl-group homage "Crazy Amazing" — a tune we can only hope is a future hit in the U.S. Brown's long awaited debut, Travelling Like the Light, is out now.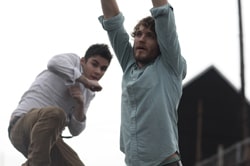 Back in the U.S., Discovery — the first official side project of both Vampire Weekend (keyboardist Rostam Batmanglij) and Ra Ra Riot (vocalist Wes Miles) — gets all electro up in here on their debut LP (available now). It's a playfully experimental mix of synths and harmonies — like Grizzly Bear discovering disco — with a slowed-down, AutoTune'd-up take on The Jackson Five's "I Want You Back." 

"Orange Shirt," a billowy soufflé of morning-after guilt and elation, is available here as a FREE DOWNLOAD.

MUSIC NEWS

Basement Jaxx have completed work on their fifth album, "Scars," due in October. The eclectic and impressive roster of guest vocalists on the album includes Sam Sparro, Santigold, Yoko Ono and Eli "Paperboy" Reed.

Get ready for a barrage of publicity on The Beatles, as their catalog is re-issued September 9. To make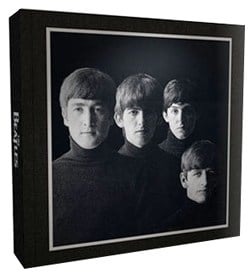 sure the die-hard fans are worked into a lather, Apple Corps. is releasing the Box of Vision to store all the CDs. In addition to being a fancy storage unit, the box will include a 200-page LP-size book featuring comprehensive album artwork.

Mariah Carey's video for "Obsessed" will premiere tomorrow night on "America's Got Talent" (NBC, 9/8c).

Triple-threat Calvin Harris (electronic musician, singer/songwriter, producer) not only has a new album out in the U.K. next month, but he's also going to be working with both Kylie Minogue and Katy Perry on new tracks we'll hear from them in '10.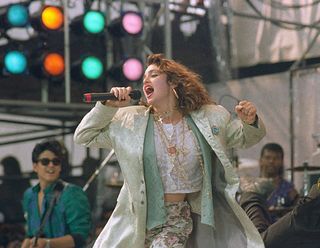 Madonna and, um, the Thompson Twins? Live Aid was 24 years ago today…relive the memories.

TODAY'S NEW RELEASES
Is it any surprise the smartest movie of the summer has the best soundtrack? (500) Days of Summer — Music from the Motion Picture features old classics by Regina Spektor, The Smiths and more, with some future classics from The Temper Trap and Carla Bruni.
Fresh from his acoustic triumph on YouTube with Lady Gaga's "Poker Face," Daughtry roughs up his sweet mainstream rock sound even more on his sophomore album Leave This Town.
We want to know what Jack White's taking that lets him handle three full-time bands. The Dead Weather, his latest, featuring that scary little minx Alison Mosshart from The Kills, finally releases Horehound.
Give it up for all the openly gay heavy metal rock stars…all one of them, that is: Rob Halford and Judas Priest release their live A Touch of Evil today.
Also released:  Joe — Signature; David Bowie — VH1 Storytellers; Chico DeBarge — Addiction; Crosby Loggins — Time to Move; The Dandy Warhols — The Dandy Warhols Are Sound; The Most Serene Republic — And the Ever Expanding Universe


MUSIC VIDEOS
The Rumble Strips: "Not the Only Person"
The oddly chipper Charlie Waller — lead singer of this English quintet — gets followed by hoodlums down a blind alley before things get supernaturally weird in this upbeat tune from their forthcoming, Mark Ronson-produced Welcome to the Walk Alone.
Calvin Harris: "Ready for the Weekend"
The Scottish electro-wizard who told us what was "Acceptable in the 80s" is now "Ready for the Weekend" with a clip that uses the red London Underground circle as a looking-glass. Like a Target commercial gone wild.
Dirty Projectors: "Stillness Is the Move"
From their latest release Bitte Orca, these Brooklyn bohemians marry Middle Eastern atonality to the soul-stirring femme vocals of Amber Coffman on this naturalistic clip featuring llamas, wolves and lovely ladies in blue couture burkas.
Sally Shapiro: "Love in July"
Shapiro continues her merger of Italo Disco and Swedish pop smarts with this breezy synth-blast accompanied by the digitally-enhanced deep-sea journey of a pale blue animated whale. From her forthcoming album Miracle.