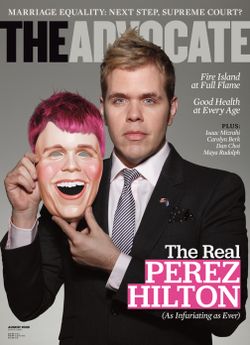 A sandstorm that's injured many and stymied travel in Iraq may actually be the largest in modern history—it's even visible from space.

Perez Hilton is The Advocate's latest coverboy. The print edition was put to bed prior to his will.i.am "faggot" incident, but the online version of Benoit Denizet-Lewis's article contains updates, such as this nugget: "I thought about calling him the n word, but I thought the f word was even worse. I was so filled with hate at that moment because I was hated on so much, and I reacted in the worst way possible." The article is certainly no puff piece, but it takes the Perez phenomenon seriously.

According to records, Sarah Palin called Dick Cheney, Rudy Giuliani and Charlie Crist in the weeks before shocking everyone—even her own father-in-law—by announcing she was up and quitting.

Jackie O…Oh, Oh, Oh! Did President Kennedy's wife have an affair with his Attorney General brother, Bobby?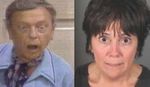 Too Much Time at the Regal Beagle: Three's Company alum Joyce DeWitt ("Janet"), 60, busted for DUI. Mug shot completes transformation into "Mr. Furley."

Margaret Cho's Web site gets a makeover.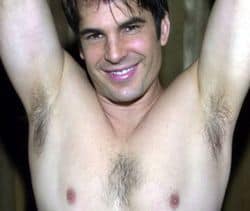 Looks like today's the day on The Young & the Restless that "Phillip," played by openly gay (and openly hot) actor Thom Bierdz, comes out of the closet.

Michael Jackson's memorial in L.A. today (following last night's private service and an early-morning internment at the secretive Forest Lawn in the Hollywood Hills) is set to feature performances by Mariah Carey, Jennifer Hudson, Queen Latifah and Stevie Wonder, with appearances by Martin Luther King III, Brooke Shields and a host of others, including Shaheen Jafargholi…an adorable Britain's Got Talent contestant who's about 12 and fits the profile. Not going? Debbie Rowe, who doesn't want her attendance to "be an unnecessary distraction to an event that should focus exclusively on Michael's legacy."

The oddest photo of Michael Jackson ever to be published.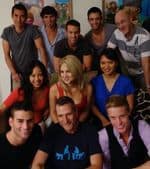 Eating Out 3: All You Can Eat is the surprise screening at Philadelphia's QFest on Sunday, July 19, at 7 p.m. The film continues the series' theme of sexual deception and stars Rebekah Kochan, Mink Stole, Leslie Jordan and six openly gay actors in lead roles. (Cast and crew pictured at left.)

Could the Boies-Olson Prop 8 lawsuit judge be gay? If so…does it matter?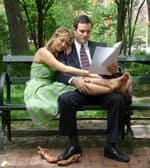 Veteran actress Penny Fuller is perhaps best known for her turn as Eve Harrington on Broadway in Applause, but she was also in the original 1963 production of Neil Simon's Barefoot in the Park. She will join cast members of Ground UP Productions' intimate, Off Broadway revival of Barefoot in the Park after the Saturday, July 11, 8 p.m. show for a "Barefoot Flashback." If you've never attended this kind of thing with original stars, I always find them to be highly entertaining. Tickets are $25.