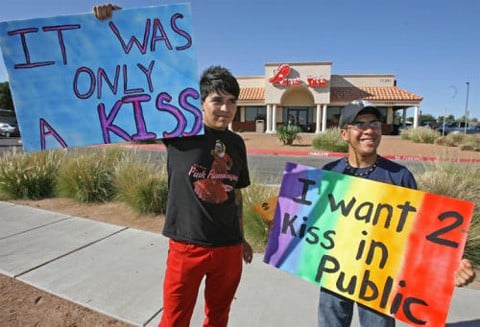 A series of protests occurred late Friday outside Chico's Tacos in El Paso, Texas after news surfaced late last week that two men had been ejected for kissing there: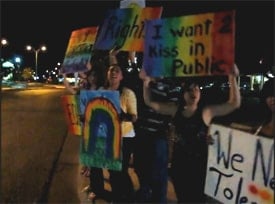 "About 100 people picketed in front of theChico's on Montwood, where they hoisted signs that read, 'El Paso isDiversity,' 'What About Our 1st Amendment Rights?' and '…With Libertyand Justice For All.' Protesters lined both sides of the street outside the restaurant, chanted and urged motorists to honk in support. Carlos Diaz de Leon, one of the five men and aleader in the protest, claims that about 12:30 a.m. June 29 he and fourothers were at Chico's when two of his friends kissed, prompting aprivate security guard to use an anti-gay slur in Spanish and to callpolice, who cited a statute on homosexual conduct declaredunconstitutional six years ago. The five men are taking steps in possibly mountinga legal challenge against the restaurant, All American InternationalSecurity and the city of El Paso."
A couple of brief clips of the protests, AFTER THE JUMP….