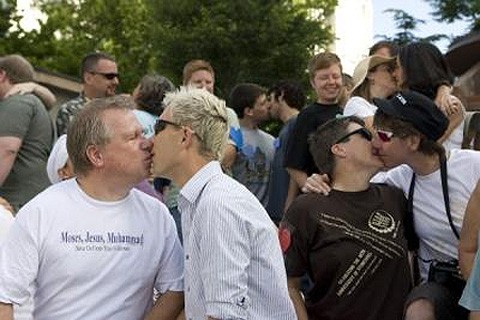 Hundreds of mostly same-sex couples "swarmed" the Main Street Plaza in Salt Lake City near the Mormon Temple Sunday to protest the detention of a male couple, Derek Jones and Matt Aune, by LDS security guards last Thursday after they embraced and kissed on the plaza. Aune and Jones were cited for trespassing.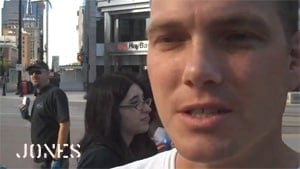 Sunday's kiss-in was a gentle show of force:
"The atmosphere Sunday morning was genial, and even merry among protesters. Organizer and former city councilwoman Deeda Seed encouraged 'gentle' displays of public affection, and participants stuck to short kisses on the mouth and cheeks.Several LDS Church security guards dressed in suits kept a watchful eye, and turned some protesters back when they tried to cross the church-owned plaza or walk onto the property to share a kiss.Guards called police when protesters staged a walk onto the plaza, and officers stood to block the entrance.' They were asked repeatedly not to come onto the property, and they chose to do so anyway,' said LDS church spokeswoman Kim Farah. Though a few people spoke in protest, there were no direct confrontations, and guards did not stop the protesters gathered past the property line.In a prepared statement, Farah said the church welcomes the millions of visitors who come to its headquarters each year. "
An interview with Derek Jones, and a local news report on the demonstration,
AFTER THE JUMP…