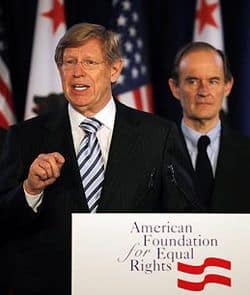 According to a press release, the LGBT groups Lambda Legal, National Center for Lesbian Rights and the ACLU LGBT Project have filed a motion asking that the U.S. District Court in San Francisco to allow Our Family Coalition, Lavender Seniors of the East Bay and Parents, Families, and Friends of Lesbians and Gays to intervene in Perry v. Schwarzenegger, the Olson-Boies federal suit (filed as American Foundation for Equal Rights) designed to put the question of marriage equality before the United States Supreme Court as soon as possible.
Earlier, Lambda Legal and others issued
a warning
that "ill-timed lawsuits could set the fight for marriage back."
"These groups wish to illustrate for the court the diverse needs of their members and the lesbian, gay, bisexual, and transgender (LGBT) community generally to provide the full factual record," said Jennifer C. Pizer, National Marriage Project Director for Lambda Legal. Lambda Legal, NCLR and ACLU had previously filed
a friend-of-the-court brief
in the case June 26.
But Towleroad has obtained a copy of a letter (full letter after the jump) from Chad H. Griffin, Board President of American Foundation for Equal Rights, to the LGBT groups urging the following:
"On behalf of the plaintiffs and our board, donors and supporters, I am writing to ask that you not intervene in Perry v. Schwarzenegger.

"Given our willingness to collaborate with you, and your efforts to undercut this case, we were surprised and disappointed when we became aware of your desire to intervene.

"You have unrelentingly and unequivocally acted to undermine this case even before it was filed. In light of that, it is inconceivable that you would zealously and effectively litigate this case if you were successful in intervening. Therefore, we will vigorously oppose any motion to intervene."
The letter is tough stuff, laundry-listing the LGBT groups' unhelpful soundbytes and actions, and goes on to list the Foundation's efforts to "stand together, shoulder to shoulder, in this battle."

Despite the obvious rift, Griffin writes that the Foundation remains "willing to work closely with you at all stages of this case and welcome your continued participation in the district court proceedings as an
amicus curiae
. But we cannot and will not support your motion to intervene."
The argument for the Johnny-come-lately LGBT groups butting out is more persuasive than just a me-first, knee-jerk reaction:
"As a result of your intervention, we could be mired in procedurally convoluted pre-trial maneuvering for years—while and gay and lesbian individuals in California continue to suffer the daily indignity of being denied their federal constitutional right to marry the person of their choosing."
It would appear Lambda Legal, National Center for Lesbian Rights and the ACLU LGBT Project are either realizing the case might actually be successful and therefore want to ride its coattails for credit and relevancy, or—depending on your capacity for cynicism—are intentionally dragging down a suit from a rival group working for the same cause.