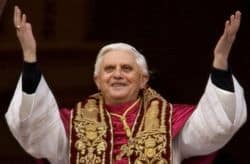 Pope Benedict XVI is proposing a new world political body that would supersede the United Nations. Unlike most of Hollywood and perhaps unlike himself, he would want this organization to have "real teeth."
This body would give more aid to those in need, would enhance trade unions and would focus on an economy driven by the desire to do good as well as make money.
Of course, there is no place for birth control, abortion or marriage equality.
Fittingly, the Pope observed, "As society becomes ever more globalized, it makes us neighbors but does not make us brothers."
(Note: Post title changed because apparently some feared the Pope was actually attempting to rule the world himself.)