In a 13-6 vote, the Senate Judiciary Committee has approved Judge Sonia Sotomayor for the U.S. Supreme Court, the WaPo reports: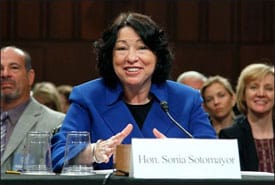 "The 13 to 6 vote came nearly two weeks after the committee's membersgrilled Sotomayor for 2 ½ days, eliciting answers that betrayed littleindication of how the nominee, an appellate judge for the past 11years, would rule on the most significant issues that come before thenation's highest court.Sotomayor is President Obama's first nominee to the Supreme Courtand would become the court's first Hispanic and its third female member…This morning's vote was as notable for its sharp polarization between the political parties as it was for its lack of drama. All the members had announced in advance how they intended to vote. Sen. Lindsey Graham (S.C.), a conservative, was the only Republican to join the committee's dozen Democrats in supporting Sotomayor. Two of the veteran GOP senators who voted against her, Charles E. Grassley (Iowa) and Orin Hatch (Utah), have never before opposed a Supreme Court nominee."
Sotomayor's confirmation now goes to the full Senate for a final vote.
Watch a clip of Senator Al Franken's statement before the vote and an interview with Senator Grassley about his and Lindsey Graham's votes, AFTER THE JUMP…