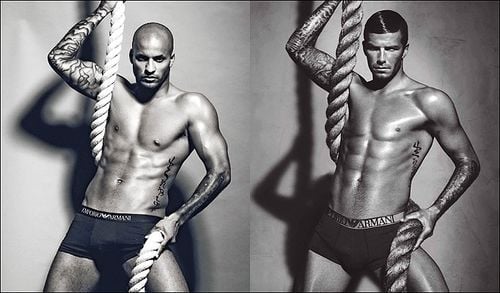 Ricky Whittle, an actor on the popular British soap Hollyoaks, imitated (as others have done in the past) David Beckham's well-known Armani underwear rope ad for the UK's Now magazine:
Writes The Sun: "He clung onto a rope and had temporary body art applied to his arms and torso
to recreate the footballer's tattoo heavy look.
But rather than spend hours down the gym to maintain his hot bod, Ricky
insisted he guzzles down a diet of Chinese food, pizza and kebabs. He said: 'I've no idea how I keep in shape because I eat like a pig!' Talking about his idol, he added that Becks is an athlete so 'looks amazing'. But the cheeky actor then joked: 'I'm not being funny but even I'd go there!'"