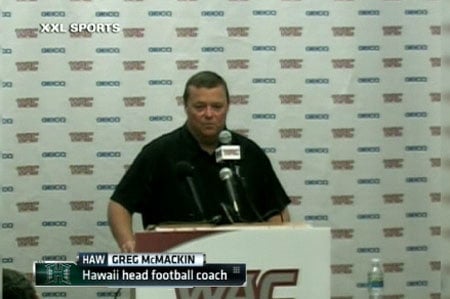 Yesterday, I posted about Hawaii football coach Greg McMackin, who repeatedly used an anti-gay slur at a media preview on Thursday and then attempted to persuade the media to not report on it. McMackin apologized one he realized the press was going to cover it.
According to the Idaho Statesman, "McMackin said Notre Dame coach Charlie Weis got up at the banquet andtold the crowd, 'We do something special at Notre Dame.' 'And they getup and they do this little cheer, like this,' McMackin said Thursday,doing a rhythmic clap. 'You know, this little faggot dance.'"
Watch his apology, AFTER THE JUMP…
Western Athletic Conference said it was waiting to determine what action to take against McMackin, the AP reports: "WAC commissioner Karl Benson said McMackin's offensive commentsbrought negative publicity to the conference, 'at an event where thepurpose was to promote the WAC in a positive manner. While hiscomments clearly violate the WAC Code of Conduct, I will wait until theUniversity of Hawaii determines its course of action before determiningwhat sanctions the WAC may impose,' Benson wrote in an e-mail."