On the 11th anniversary of Matthew Shepard's death, this October 11, at least 40 and up to 100 regional theaters across the U.S. will debut an 80-minute "epilogue" to The Laramie Project, the NYT reports: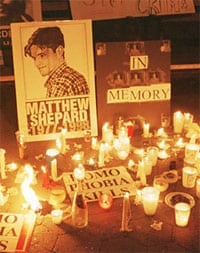 "Moisés Kaufman, the playwright and director who, with his Tectonic Theater Project company, wrote and produced the first 'Laramie Project,' said the epilogue would explore the impact of the Shepard killing on the residents of Laramie, Wyo., where it occurred. The dialogue will be drawn from interviews with dozens of people there, some of whom were involved in the crime, including Aaron McKinney, who was convicted of murdering Mr. Shepard and who gave an interview to the Tectonic artists. 'We wanted to see what occurs in a small town in the long run when it's been subject to such a devastating event,' Mr. Kaufman said in an interview. 'What has been the long-lasting effect of this watershed moment? Is the fallout of these events positive, negative or perhaps a better question, is it measurable in those terms?'In holding multiple premieres of the play on the same night, Mr. Kaufman said he was taking a page from the Federal Theater Project, the New Deal program that often opened plays in a multitude of cities on the same night."
The New York performance, which will take place at Alice Tully Hall in Lincoln Center, will be connected to all the other performances by the internet with a live question-and-answer session following the debut.
Big Opening for Epilogue to 'The Laramie Project' [nyt]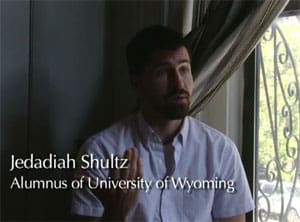 Kaufman and collaborators Stephen Belber, Leigh Fondakowski, Andy Paris and Greg Pierotti interviewed Laramie residents and people involved in the original Laramie Project last fall and posted some of the excerpts from those interviews on YouTube in June.
Watch the excerpts, AFTER THE JUMP…
Kaufman wrote, in a blog entry of September 13 on the first day of interviews: "It's important to remember that Laramie was very hurt not only by the brutal murder but by the media portrayal of it as a town of "rednecks and hillbillies and cowboys" which of course it's not. What we found so interesting about Laramie is not how different it is from the rest of the country, but how similar. Ten years ago we heard so many times people cry out against the media portrayal: 'We're not like this!'. The town's reputation had been tarnished. And there's still the need for many people to 'set the record straight'.Several of the interviewees talked about burnout. There's still so much work to do in the state. And too many people who want to 'put this behind them'."
Watch the excerpted interviews, AFTER THE JUMP…