TV visionary Don Hewitt, creator of 60 Minutes, dies. Newsmen remember…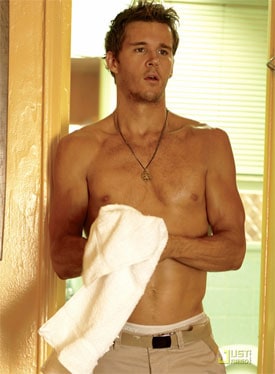 True Blood's Ryan Kwanten shows off his favorite outfit for GQ.

WATCH: Britney Spears launches presidential campaign on Letterman.

Gay Iraqi tells Guardian about attack by militia: "Four men came into the shop. They pulled out guns. They were the Mahdi army. The
place they took me to was very close to a mosque or actually in the
courtyard – I could hear the call to prayer very clearly. When they
hauled me out of the car, they beat me unconscious. Late the
next day, they came to me and said, 'We know you are gay.' They pulled
out a list of names and started reading them … I knew four who were
still alive. One they had already killed. They interrogated me
for three hours that night. They demanded I give them names of other
gays. At night they got a broomstick. They used it to rape me."

Does Demetri Martin tailor his discomfort over playing gay to specific audiences?

West Hollywood International Film Festival descends into complete chaos.

Imogen Heap is back with a new album and video.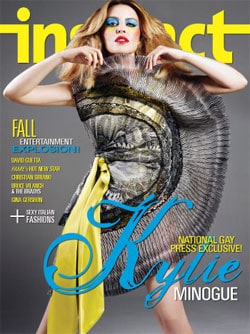 Kylie Minogue talks to Instinct a month before her first-ever North American tour: "There is still a certain amount of disbelief because it's really
happening. I've spoken about this for so long and I was sure the fans
in the States had given up, hadn't you?"

Elton John and David Furnish live the good life in Saint Tropez.

European Committee of Social Rights: Croatia's sex-ed curriculum is discriminatory. "The committee said parts of the curriculum 'stigmatize homosexuals and
are based upon negative, distorted, reprehensible and degrading
stereotypes.'"

Warming: More methane seen rising from Arctic sea bed.

Andy Warhol Michael Jackson portrait sells:
"The auction, which closed at 8 p.m. Tuesday, was conducted online,
by phone and at the gallery. The seller is a private collector. Gallery
co-owner Janet Lehr would not disclose the final bid price, but did say
it was more than a million dollars."

Gay romantic comedy Bear City looking for extras in NYC.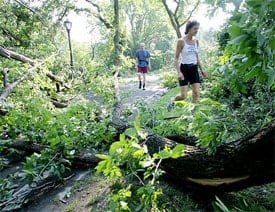 The thunderstorm that ripped through Manhattan last night caused more destruction in Central Park than has been seen in 30 years.

Q-SINY: New gay nightclub opens on Staten Island.

Winnipeg prostitute faces deportation to the Philippines.

Mario Lopez bicep rival Nick Adams makes solo debut at Birdland.

E. Lynn Harris' aunt Jesse Phillips talks about the late author: "Every time he wrote a book I'd go and
buy 10 to 12 of them to support him I knew that he was gay before he
told me because I could tell by his mannerisms but it didn't make me
love him any less. When he was about 14 or 15, he confided in me that
he was gay and it was just between the two of us. I kept his secret. I
don't think he ever sat down with my sister and told her the way he did
with me, but she accepted him just the same. He told me, 'I thought I
could pray everything away even my sexuality but I can't.' Then he said
that he knew I didn't' like the idea of him being gay but the fact was
if he never had sex again in his life, he'd still be gay."