Today, Israeli Prime Minister Benjamin Netanyahu visited the Tel Aviv gay youth center where a gunman killed two and wounded 15 others over the weekend, Ynet reports: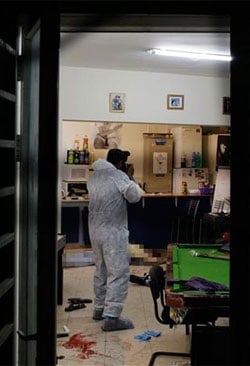 "Netanyahu heard from representatives of thecommunity accusations of incitement from ministers and MKs from withinhis government and he expressed his support of the community. Severe incitement is voiced from many sources, including Knessetmembers and ministers in your government. (The shooting attack) is themost serious incident the gay community has experienced since theestablishment of the State. The day after this horrendous murder is notthe same as the days before. Woe to us if the blood of those killed aninjured was spilled in vain.' Education Minister Gideon Sa'ar, Internal Security Minister YitzhakAharonovitch, Police Commissioner Dudi Cohen and Tel Aviv districtcommander, Major-General Shahar Ayalon accompanied the PM on his visit.During the visit, representatives of the gayand lesbian community presented a letter to the PM saying, 'We, themembers of the gay and lesbian community experience verbal and physicalviolence every single day within the family, in schools and inworkplaces."
The crime scene, right.

The Jerusalem Post reports that Yaniv Weizmann, head of the Gay Youth Organization, was satisfied with the meeting.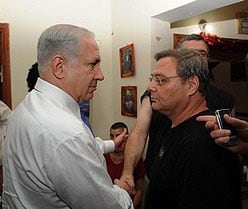 Said Weizmann: "The days to come will not be like days past. Theprime minister expressed his solidarity. The prime minister's messageis very clear; it's a message of support for the community. We expect aministerial committee to convene [regarding the subject], [we want]full equality for members of the community, that our partnerships willnot be outlawed… secondly, it's all about education, education,education; stopping homophobia. Thirdly, there's the issue ofincitement. It is absurd that there are ministers and members ofKnesset in Netanyahu's administration who defame the community. Weasked the prime minister to refer to the attack as a terror attack. Itwas a very positive meeting, the prime minister gave us his full support."
In addition to the one in Washington D.C., a vigil was held on Monday night in San Francisco, and in Berlin. There are upcoming vigils in Los Angeles and Buenos Aires and Atlanta for victims of the shooting.

Last night a vigil was held in New York City. Jay Michaelson of Nehirim, and Rep. Jerrold Nadler speak at last night's vigil for victims of the Tel Aviv shooting in NYC, AFTER THE JUMP…