Mary Cheney, the lesbian daughter of former VP Dick Cheney, has thrown $1,000 behind Rob Portman, a Congressional candidate from Ohio who believes she should not be able to adopt children or marry her partner:
Raw Story: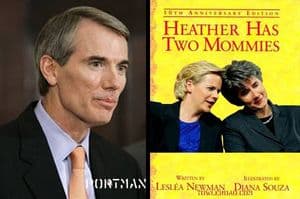 "Cheney, 40, has a two-year old son with her partner of 17 years, Heather Poe. The donation to former Rep. Rob Portman (R-OH) was made in May. Portman is seeking the Senate seat that will be vacated by Sen. George Voinovich (R-OH) when he retires in 2011….As an Ohio congressman, Portman voted yes on banning gay adoptions in the District of Columbia in 1999. He also voted in favor of a constitutional amendment banning same sex marriage in 2004.
Portman's opposition to same-sex marriage is particularly salient, because both of his potential Democratic challengers favor its legalization. Ohio Secretary of State Jennifer Brunner reaffirmed her backing for gay marriage in a posting at The Huffington Post in June, and a spokesman for Ohio Lt. Gov. Lee Fisher announced that he'd reversed his opposition the same month.
Robert Paduchik, Portman's campaign manager, told the Columbus Dispatch in June that the erstwhile congressman still opposes same-sex marriage. 'Rob Portman has always believed that marriage is a sacred bond between a man and a woman,' Paduchik said."
Priorities, priorities…
(via good as you)