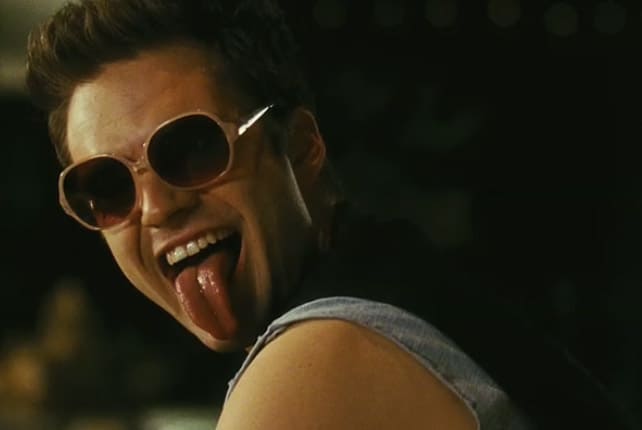 That must be computer generated. He's showing that off in a movie called Spread? The MPAA must have missed that when they gave this an "R". Next up for Sebastian: the Gene Simmons biopic!

Two enticing genre films are also here. Animation master Hayao Miyazaki's latest PONYO has also arrived. If you've ever seen the Oscar winning Spirited Away or the moving Princess Mononoke you'll want a ticket. There's more to animated films than Pixar's boys and Disney's princesses. Peter Jackson (The Lord of the Rings) produced DISTRICT 9,
an alien invasion action movie. It's set in modern day Johannesburg and
though it's a little messy with ideas and stylistic choices (the faux
documentary device is overplayed), the central image of an alien
spaceship hovering over the post Apartheid city like a dark
cloud is marvelously effective. It's very bloody and full of tense
inspired moments and jaw dropping special effects. Action, sci-fi and
horror fans will love it… if they buy a ticket. Without stars or childhood toy tie-ins, who knows how well it will sell.
The Classics
It's Alfred Hitchcock's 110th birthday today. He's been in the grave for nearly 30 years but Hitchcock would love to know that he's still terrorizing movie lovers into the 21st century. Terrorizing them in their homes no less. Few auteurs boast a filmography as overflowing with classics. One of my sentimental favorites –though it's hardly sentimental– is the Leopold & Loeb style experiment Rope (1948). Here's an excerpt of something I wrote on it:
"Though this thriller was made in 1948, it could only read gayer if the men were shirtless or wearing leather harnesses. This, for instance, is how the opening post murder scene plays out…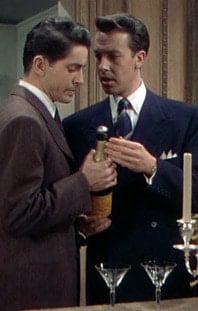 Two men, having just done the dirty deed, argue. The more aggressive man, Brandon, complains that they couldn't do it with the lights on, in the sunshine. His partner in crime, Phillip, has instant regrets. He could only do it in the dark. A cigarette is lit. More small talk and then they stand uncomfortably close together popping the cork (yes, really) on a bottle of champagne.
Phillip: [guilt-ridden] Brandon, how did you feel?
Brandon: When?

Phillip: During it.
Brandon: I don't know really… I don't remember feeling much of anything. [suddenly excited] Until his body went limp and I knew it was over!

Phillip: [trembling] And then…
Brandon: And then I felt…tremendously exhilarated. [Pause]

H-h-how did you feel?
Dirty. Hitchcock, the mainstream's most reliably twisted auteur, clearly intends for this post-murder dialogue to double as post-coitus chatter. [read the rest]"
Hitchcock was pathologizing the homosexual but I'm forgiving because he pathologized
everything. He was an equal opportunity provocateur. He even curdled
Jimmy Stewart's everyman milk. How sick is Jimmy in Vertigo (1958) anyway? Major reparative therapy –no, not that kind — is required.
What's your favorite Hitchcock film? If you've seen Rope, 'h-h-how did you feel' about it?