Attorneys Ted Olson and David Boies have petitioned U.S. District Court Judge Vaughn Walker to block the National Center for Lesbian Rights, Lambda Legal,
the American Civil Liberties Union (ACLU), and the City of San Francisco from standing with them at their federal trial challenging Proposition 8, the Washington Post reports: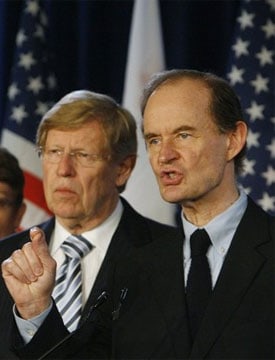 "Boies and Olson argued that allowing San Francisco into the legal fight would needlessly delay the case's resolution.
Boies and Olson also asked that three other gay-rights groups should be
barred from joining the case on similar grounds. They also argued that
the conservative Campaign for California Families be prevented from
joining the case in opposition, saying the group also doesn't have
standing in the case."
According to the SF Chronicle, lawyers for the right-wing Alliance Defense Fund who are opposing them, share their position on other groups getting involved, but disagreed on another topic: "Lawyers for the same-sex couples challenging Proposition 8 in U.S.
District Court in San Francisco and for the Alliance Defense Fund,
representing sponsors of the law, filed briefs Friday that differed on
whether a trial is required to settle the dispute over the November
ballot measure, which invalidated the state Supreme Court's May 2008
ruling that struck down a law defining marriage as the union of a man
and a woman."
The WaPo: "On Friday, Boies and Olson argued that the case should proceed to trial
before a judge without a jury before the end of the year. Lawyers with
the Alliance Defense Fund argued in court papers Friday that the case
could be decided rapidly without a trial."